Kids enjoy reading, drawing, and playing independently. Arts, crafts, and sports are vital components of physical or mental childhood development, and you can continue to promote them. Sports help kids to remain physically strong and also train their minds to be sharp and agile.
Unfortunately, most kids nowadays waste much of their spare time on mobile screens or watching too much television. In today's world, kids are obsessed with screen time, so it is especially appealing to see kids interested in sports.
Currently, 40% of Australians do not participate in any sport. 
"Kids aged 5 to 14 engage in sports in the ratio of six out of ten"  as reported by the Australian Bureau of Statistics.

According to the April 2012 Australian Health Survey, "25% of kids and adolescents aged 2 to 17 in Australia are overweight."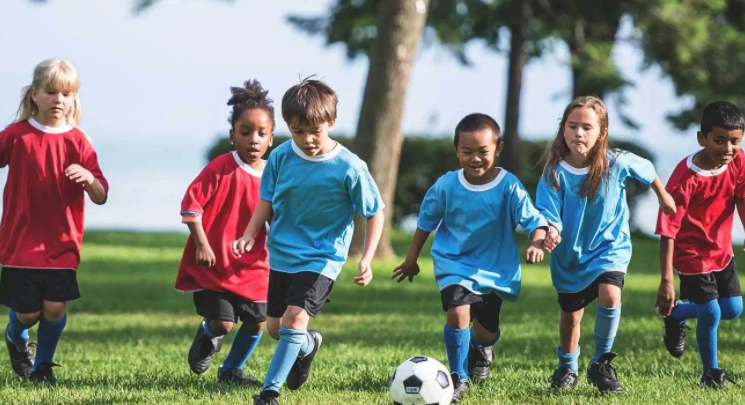 Active people have minimal risk of certain illnesses, including heart disease and osteoporosis. Therefore, we must cultivate a more sports-oriented community that allows kids to be physically active. Regular exercise results in a lower risk of mental issues that includes anxiety and depression. 
Early in life, habits are created, and evidence indicates that physically active and sporty kids have a good quality of life. According to studies, the effects of organized sports have a long-term impact. Sporty kids have a more optimistic body image, do better in middle and high school, and are less likely to use drugs.
Advantages for Kids Interested in Sports
Some of the advantages for kids who are interested in sports are listed below.
Lower chance of obesity.

Improved cardiovascular fitness.

Bone, muscle, ligament, and tendon development remains stable.

Kids involved in sports have better coordination and posture.

Prevent the risks associated with chronic muscle stress (such as headache or backache)

Play sports to ensure a good night's sleep.

Improvement in social skills is another benefit for kids who are involved in sports.

It results in good mental child's health.
8 Ways to Get Kids Interested in Sports.
So here are some of the effective ways to get kids interested in sports. Check it out.
1. Assess their Interests
Which categories of sports excite and delight your kid? You have to be conscious of what kind of sports they would like according to the activity they would like doing. Here are some recommendations for helping your kid pick the right sports for them.
Try

football

if your kid gets along well with other people, enjoys running around, and blows off steam by kicking whatever he can. 

Gymnastics

is good if your kid dances around the living room have strong balance, and shows upper-body power in the jungle gym.

You can teach your kids

baseball or softball

if they enjoy playing catch and using their toys as pellets.

Swimming

is a great exercise if your kid enjoys taking baths and does not panic when water gets in her eyes.

Table tennis

is an option if your kid constantly jumps and skips around and has solid

hand-eye coordination.
Basketball

is another option; if your kid enjoys bouncing a ball on the driveway, can throw her laundry into the hamper from several feet away, and enjoys working as part of a group: Take a look at hoops.

Playing

hockey

is an alternative if your kid can skate across a clean kitchen floor without falling and can spend all day outdoors in cold weather.
If you're unsure, ask a gym instructor, mentor, parent, or someone else who knows a lot about youth sports to recommend any possibilities. Get to know your kid more. To know what their interests are you should have good communication with kids.
Also, look for coaches who have prior experience working with kids learning these sports. This way, your kid will express their interest and be happy to do what they want to do.
2. Accept their Game Choice
Many families become overly focused on a particular sport for several reasons, including their personal experience or the future success and wealth to be made in a particular sport. They ignore their kid's decisions on choice for sports. Letting kids choose what they wish is a great art of parenting or strategy. 
Accept any sports activity your kid wishes to participate in, whether Shotokan karate or skateboarding. Your kid, assuming they tried a few things over the last couple of years, has most likely established some preferences. Inquire about which team they would like to join. They may shock you with their answers.
Parents consistently enroll their kids in the same sports program as their peers, but this isn't always the best solution. Parents are also inclined to enroll their kids in the same games they played as a kid. So, it is important to accept their game choice rather than putting in your bias. 
If you enroll kids in a game, they do not like it, it will impact their relationship with you. They will grow to resent the sport and maybe even their parents. Rather than coming to these negative results, trust your kid's choice when picking something they want to join.
3. Teach them the Basic Skills
Pediatricians agree that most younger kids are not ready for competitive team sports. They are still learning basic motor skills and mastering those movements which is vital for later success in sports. When your kid focuses on basic skills such as batting and kicking before mastering skipping and jumping, they will have difficulty racing and balancing effects. 
It is more difficult for them to advance in the sport, resulting in injury. Allowing your kid at least 60 minutes of physical activity a day will enable them to learn the fundamentals. Adults may lead some plays, but unstructured play where they make the decisions is best. Running around a playground and jumping on equipment will give them an excellent workout.
Change activities and think beyond the box to get kids interested in sports. Swimming and tumbling are age-appropriate activities, as are dance lessons, riding bikes, and hiking as a family. You can also help your kid stay fit with some exercises like skipping and doing some drills.
Educate your kids on how to jump rope the easiest way. Help your kids stay active to make a healthy family. Allow them to start with it behind their back and then flip it over his head without jumping. When they have mastered it, see how he can jump over the rope and spin it around again. Continue until he can leap a few times in a row without missing.
4. Buy them the gear
It will be daunting for kids to develop an interest in a sport if they are not provided with opportunities. For instance, while playing basketball, if your kid lacks the proper safety equipment and shoes, they will lose confidence after a few weeks or months. So, gear them with equipment to get kids interested in sports.
It doesn't have to be a problem if money is an issue. You can find resources or gear in many thrift shops. You can also purchase gear and equipment at discounts. Some sports are more expensive than others. Take ice skating, for example; you have to take your kid to the inline skating rink quite often, similar to ice hockey.
Some sports do not require as much gear as others. So while your kid is choosing a sport for themselves, you also have to be careful about the budget you have to spend on their sports.
While buying the gear, you can take the opinion of their coach as well. Since they have been
working in the field for so long, they will know the gears. They will also know where to find the gears that cost less and are within your budget.
5. Show them Professional Games.
Bringing your kid to games is the best way to foster their participation in sports. They get to see how a sport is played firsthand, which allows them to imagine themselves participating in the future. Bring your kid to a nearby park on game nights whether they enjoy baseball. This would have a more immersive experience than watching it on TV.
Even if you cannot catch the game live, you can show them the game on TV. Although watching the game for a prolonged time from mobile will affect their vision but, then help to inspire them to participate and be better at sports. 
They will learn new maneuvers as well. Nothing is quite as good as watching real pro players and learning their moves. It helps kids absorb what they are taught by their coaches as well.
6. Enroll them in Leagues
If possible for those kids interested in sports, scope out multiple leagues and see a few sessions to get a feel. Preschool athletics should be more like games than lessons or drills. Playing, social interaction and core motor skills should be emphasized by coaches.
Since most preschoolers are still learning balance, it could be best, to begin with, a big-ball sport like football. Take note of the other players' skill levels. If they are far above your kid's age, they will not like them. If you decide on a tryout, you should walk your kid around the football field, gym, or sporting arena.
Young kids should manage to find the restroom, meet their coach and squad each day, find lockers, store sports equipment, what jersey or clothing to wear, and where to get drinks. Talking over all of the specifics will make your kid less nervous when it is time to begin practicing.
Encourage your kid to get input from other kids who have already tried out for the program. Train skills and moves before the actual tryout, based on the sport. It may include tracking a run or a swim and staying active.
7. Please don't Overdo
Sports are a huge deal that parents will occasionally overreact to. Some parents allow their kids to concentrate intensely on a single activity from an early age, while others engage their kids in three sports at once. However, both tactics have the potential to backfire.
Excessive repetition (one sport several days a week plus weekend matches) for kids interested in sports can make one feel more like work than an enjoyable hobby, but too much variation can keep them too busy to learn to enjoy all of them. Here are some ideas mentioned that will help you stay away from overdoing sports for your kid.
If your kid is already unhappy about the practice after two to three sessions, it is dangerous to push your child further. It usually is an indication that they aren't having a good time, and you should honor their wishes. According to studies, the most powerful motivator for kids to engage in sports is FUN.
Refrain from insisting on involvement because you want your investment back. Maybe you're just concerned that your kid will become a "quitter," but you need to withhold judgment.
Remember that every kid is unique. At the ages of four and five, many kids are generally uninterested in competitive team sports. Your son, for example, will not be ready for basketball until he is seven or ten years old. He doesn't have something "wrong" about him. Specific sports such as cycling, inline skating, gymnastics, or dancing could be more appealing.
Just be ready to change things if they are bored, uninterested, or sad. There are many sports and events to pick from, including swimming, tennis, hockey, baseball, ballet, acrobatics, table tennis, judo, and many more. They will discover something they love in no time.
Do take the opportunity to speak to your kid and figure out why s/he didn't like a specific activity. It is often the practice itself, but it is most frequently mentoring and coaching. Kids deserve to have fun, not be mocked or screamed at.
8. Help them Stay Disciplined
Kids interested in sports help them to develop self-discipline. But, then, as a parent, you have to instill this discipline in your kids by enforcing laws. Limit screen time and teach your kid to be an early bird so they will wake up refreshed the next day. Harmful sleeping patterns can reduce their excitement and motivation.
Ensure the significance of a nutritious, well-balanced diet to them. Passion is undoubtedly significant, but physical and mental wellbeing can also play a role in your kid's success.
Conclusion
Kids interested in sports are physically and mentally active. Take a collective decision from your side and kid as well to know on which sport they are interested in and find how much sport is beneficial. Here, I have listed 8 ways to get kids interested in sports. Go through the information and let us know if you find it helpful through comments.