A little imagination or ideas and a few tools are all your kids need to create magical characters and crafts out of the stones. I've been so excited to see that rock painting is becoming popular as it's one of my little sister's favorite activities and, I guess, one of mine too.
Working on rock painting projects and making crafts from painted rocks is a great way to get creative. It brings meditative art to kids. There's no wrong way to paint the rock! Since so many communities are doing different art projects related to painting the rocks. 
The possibilities for painted rocks are truly endless. You can paint rocks in many ways with different color patterns and make fun of them. Regardless of their skills level, anyone can enjoy and build various projects. The creative possibilities are infinite, which makes it a great engaging hobby.
Basically, rock painting has become a massive rock craft for kids over the years and is one of the best fun challenges for kids. It makes our kids lovable, creative and uses their imagination to make beauty out of it. I love it as you can make something beautiful and then leave it for other people to find or give dear ones or even place them in the garden.
Do your kids love painted rocks? Rock painting seems to be a popular trend right now. The answer for why is that fun is, it's relaxing and a great rock craft for all ages. 
Rock Painting Ideas for Kids
To stick well to rock art, you are best served by either acrylic or tempera paints. Tempera has a chalkier feel but is easy to wipe out when getting on clothes, making it a good option for the kids. Likewise, Acrylic paints are also well-suited, inexpensive, and safe mediums for kids. Art education instructors use tempera paints for finger painting and brush painting.
On the other hand, acrylic paints are smooth, beautiful, and have a lovely finish. A major decline in choosing acrylic paint is that it dries too hard. And when you pour them down your drain, they will stick to your pipes. The other thing is when you leave the paint in the brush without washing; then the same hard plastic will adhere to the bristles.
Recommended Supplies
The best rock painting supplies are listed below.
Rocks-

Various qualities of rocks can be found, but smooth ones are best for most rock painting projects.
Paints

– Outdoor acrylic sealer or tempera paint.
Paint Brush

– Sets of paintbrushes (or fine detail paint brushes)
Rock Varnish-

For a glossy appearance
10 Best Rock Painting Ideas for Kids
Are you looking for rock painting ideas for kids? These are easy rock painting ideas for kids because they can be considered beginner rock painting projects-great crafts for kids of all ages.
1. Painted Rock Photo Holder Craft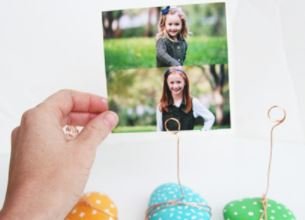 To display your favorite memories, a super fun, colorful art for kids that creates an output of pretty photo holders can be a gift to your beloved ones on their birthday or even decorate rooms. Photo holder is a great idea as gifts for Christmas, Mother's and Father's Day, etc. 
For making a photo holder of painted rocks,
First, paint the rocks in desired colors. Then allow the paint to dry. You'll need wire(copper) cut into 3 pieces, then wrap each piece of wire around any cylindrical surface several times.

Again wrap the other end of the wire several times around the rock.

Place your memorable photo in between the loops.
Likewise, painted Rocks photo Holder is a fun and simple kids' craft idea to keep them busy this summer! Enlisted below are supplies for crafting photo holders; let's give it a go! Painted Rocks make a trendy way to show off your favorite photo memories. 
Materials for Painted Rock photo Holder
Rocks or stone( can be collected your own from outside or purchased)

Acrylic/tempera paints in various colors.

Paintbrushes

craft wire 

Beads, beads tools like cutter and pliers

Memorable photos to display.
2. Playful Rock Spider Craft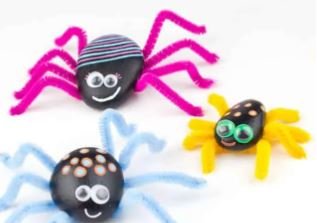 Kids enjoy singing and moving their stone spiders. Playful rock spider craft is easy to make in any color and size you like. I chose black acrylic paint for the spider's base to make this craft. But if your kids love rainbows or something, then go for it.
First, paint the pebbles and let them dry. Then for the spider's limbs, cut them into the size and glue them onto the pebbles, make two bubbly eyes on them, and give any patterns to the body. There you go, bob; the spider is ready to be played. Kids will visualize the colorful spiders on their heads and let them craft their own.
3. Ladybug Painted Rocks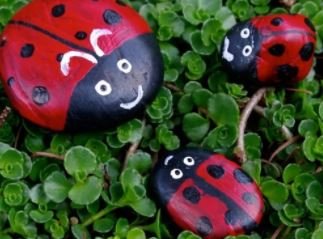 Ladybugs are always cute and favorite to most of the kids. So why not make it our little cutie? All you need is some flat rocks to give it a go. Multicolored bugs can be created as per the kid's choice. For making this craft, there's a video by earthen colors. These cute little bugs will look great indoors and outdoors.
However, the dirt on the rocks can irritate some kids, so start by washing the rocks to remove any dirt or dust. Once dried, you might choose to paint the rocks with a few layers depending on the color. Once you dry the paint, draw along the middle of the stone with a paintbrush or a marker. 
Now it's time to color the frontal part of the stone for the head. Draw a few dots on the wings – these little bugs can have more dots. Stick on two wiggly eyes or otherwise paint. And there you go, time to fly these cuties in your flower garden.
4. Woodland Creature Rocks
You can make any woodland creatures of your choice, although squirrels are my favorite one here!. Woodland creatures are a group of animals commonly associated with the forest. Many different faces of creatures can be painted on pebbles and give them sparky shiny colors. Hence, woodland creature rocks can also be fun rock painting ideas for kids. 
I used to collect different varieties of rocks. When my grandmother suggested, we paint some stones and make them into pet rocks giving them the image of big bulgy eyes. It was very fun to do. This thrilling idea will immediately set out to find the perfect rocks for the project.
5. Owl Painted Rocks
Similarly, f you are an owl lover, the next painting project can be to make your own out of the stones. Owls are still a hot favorite for many kids. The big-looking eyes of this creature bring beauty attention to kids, and they love them to play with. For owl crafts, oval size stones are the perfect match that gives exact figures of it.
Paint two white circles on the rocks for the owl's eyes at first. Then paint little colored wings and triangle beaks (I can give any color; I recommend orange). Let it dry for a few hours. Finally, once the paint is completely dry, take a black sharpie and draw some feathers and eye's pupil. 
6. Painted Rock Bee Craft
The buzzing bee with its different colors is the next choice to paint it on pebbles. Beautiful-looking insects are fun to play with for the majority of the kids. Bees are the most popular insects on the planet.
Naturally, bee crafts ideas abound for kids. Make your bee-painted rocks to decorate your bee garden or give gifts for the upcoming Christmas. 
7. Easy Sharpie Rock Art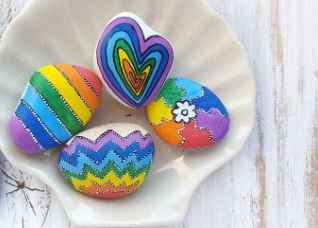 Instead of paint, Use markers to color rocks! Again this is a pretty easy rock painting idea that even kids can have a great time with their baby art. It's so much fun. To make this craft, you will need rocks, sharpie markers (color of choice), nail polish, wiggly eyes, and a big nose. There it is; you can make any image out of it. 
8. Rock Paint Minions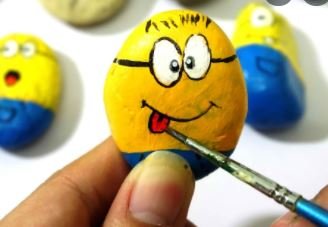 In addition, here we had our favorite minions! The most loved one, the interesting character to give shape on the rock. Minions are adorable, and they are perfect for this craft. Their expression and looks make this a great craft with kids and feel like their most loved character.
How to make Minion stones?
First of all, make sure to clean the surface of the rock in the beginning. For a couple of coats of yellow acrylic paints, you can use tempera paints or the markers' colors, but acrylic lands a smooth finish on the minions once the yellow paints get dried; start with a blue coat on the bottom for trousers. 
Again, it's time for big round eyes, Again we use acrylic paint of white. First, we mark silver to the border then use a black outline to mark the eyes. You can give them perfect goggles of your type super-fine tip brush is a perfect match. 
Now it's time to play with it indoors and outdoors.
9. Donut Painted Rocks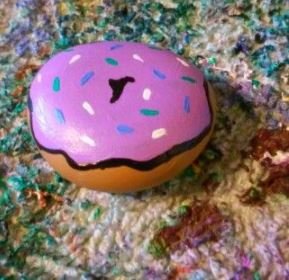 If your kids are obsessed with donuts, they will love these sweet rock painting ideas. Multicolor donuts are made for your kids' birthday presents. Start with always cleaning the rocks before painting. Paint your favorite brown paint for chocolate flavors or Pink for strawberry. Now, give marshmallow glaze, cream cheese whipped, or even Espresso Glaze for your hot donut.
 Now bake your donut and ENJOY!
10. Emojis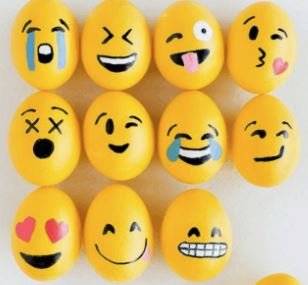 Did you know that July 17th is World Emojis Day? This day was created to spread enjoyment using emojis and promote it. We will need some smooth rocks, acrylic paints of various colors(yellow, black, white, red), a pencil, and paintbrushes for this craft. 
Furthermore, emoji language is the world's fastest-growing language. Over 10 billion emojis are sent daily on the internet. Different shapes of the rocks give various head-shaped emojis. Round rocks are generally chosen.
How to create DIY emoji stone art:
Step 1: First, select round small rocks, wash them with warm soapy water and dry them for a couple of minutes before painting them.
Step 2: Apply a few 1st coats of white then with a yellow circle for the emojis, or you can paint yellow all over the rock.
Step 3: Let it dry the paint, then draw the features of the face using a pencil or marker.
Step 4: Finally, draw your choice's facial expressions(happy, sad..).
Conclusion
Simple lines in alternative colors would encourage the kid's hand control and turn-taking skills as they share pen supplies around their friends. There are great rock painting ideas for kids for instance in the classroom, including various educational activities, gift-giving, creating games, etc. 
So, go through the information and learn some of the best-recommended rock painting ideas for kids. Also, share with us more rock painting ideas for kids if you have some. 
Also Read: 11 Patriotic Crafts To Make With Kids
Also Read: 7 Best Christmas Printable Decorations Ideas