Pregnancy is a mixture of an exciting, a little scary, and an adventurous journey. It is the start of a new family. An addition of a family member can make a lot of changes in the family. It is a journey of 38-40 weeks.  Responsibilities are coming all the way. 
The next step after being pregnant is how and when to tell that you're pregnant. The time to announce to someone that you're pregnant depends on who you're giving the revelation to.
One of the tasks that we find difficult is how to tell the kids that you're pregnant. It indeed is a handful of a task, but we can do it creatively and in a fun way. 
When to tell your kids you're pregnant.
First of all, you need to think about the timing first. You need to consider the time when you're ready to disclose the news to your kids. It is better to do it after the first trimester. The pregnancy is secure, and the chances of miscarriage are now lessened.
Children tend to talk about the news once they get it. So, you need to think about whether you're ready to disclose the news to the family before letting your kids know. It is better to tell the kids and other members together. This way, they can cherish the news together.
Approaching the right way
You need to understand that kids may have a different feeling than what we expect after sharing the news. Some might be happy, but some might feel insecure while some kids might feel that they are not good enough for their parents. Few may feel their parents will love them a little less now.
This is the reason approaching kids about telling the news the right way is essential. We need to break the news to our kids according to their age group.
Creative ways to tell your kids you're pregnant
Revealing the news can be exciting. You need to look for ways that are simple yet creative and straightforward for your kids to understand. There are different ways of doing the pregnancy announcement according to the age group of the children. 
It's better to tell the younger kids about the pregnancy after the baby bump starts showing. It will be easier to make them understand what you're talking about. For older ones, you can reveal it earlier as they know the basics about pregnancy and can understand it easily.
1. Give them a customized t-shirt to tell them you're pregnant.
It is a fun way to let them know the big news. Children feel happy when they get to share it with everyone. They would love to wear a Big Brother/Sister t-shirt and show off to everyone.
As they'll be happy with the gift as well as the news, will be in a happy mood and be welcoming to their new sibling. This would make them look forward to being a big brother/sister.
You can have a little talk with your kids and let them know that you have a surprise for them and give them the t-shirt. This will be a wonderful and joyous moment for them.
2. Arrange a treasure hunt
This is a great announcement idea for older kids. You could arrange a treasure hunt with clues all over the house and the big reveal at the end. Children love these types of games. They'll be interested and enjoying the process.
The hunt itself will make them happy and in a good mood. This will help them take the news joyfully and be happy for the new life. 
Sometimes it might not go as planned, and children tend to not like the fact that they're getting a sibling. You need to accept it and talk to them about it and ensure that it will be no different, and you still love them the way it has always been.
3. Filling a scrapbook
A scrapbook can be a creative tool. You can ask your children to paste their pictures when they were a baby on it to revive their memory. They'll be in a really good mood and will be having a positive mind.
This would be a creative idea to break the news to the child. We could ask them to help with filling a scrapbook with baby pictures of themselves. Letting them know that they're getting a younger brother/sister will increase their excitement. 
As they'll be happy looking and reminiscing their baby pictures, they'll be looking forward to welcoming another cute baby into their family. 
4. Taking them to an ultrasound session
Involving your kids in the process can be a conversation starter. Looking at the baby growing in the mother's belly would be fascinating for a child to see. It could make them emotional as well.
This will help the emotional bonding of the kid with their sibling start already and will help in the future. They will be excited for their siblings to come to them soon. This will be a great session for attachment with the baby.
5. Reading books
There are a lot of storybooks about sibling relationships. We could read any of those books to our children. When they are interested and involved enough in the story, we can reveal the news and let them know that they will have a brother or a sister. 
This will fill excitement and joy for the kid. They'll relate with the character and will be happy to finally have a sibling to share the bond with.
6. Custom puzzles
Another great and fun way to reveal the pregnancy can be by using a custom puzzle. Asking the kids to solve the puzzle that has "You're going to be a big brother/sister" or something like this, in the end, would be so much fun.
The child will enjoy the puzzle and enjoy it even more after getting the big news. We can customize anything in the puzzle so we can craft our creativity on it. This could be a fun little moment.
Why Tell Your Kids About Your Pregnancy?
Letting children know about this news can be a massive alteration in their life as well. You need to understand that they may or may not take the news happily.
Kids cannot sometimes handle the news because they fear losing their value in the house or getting replaced. You should have an open conversation about this with the kids' after revealing the big news.
They might feel like their parents will not have time for them. You need to make sure that they don't feel insecure about getting a sibling and affect them. They need to be reassured about the love and the time will be enough for everyone. 
This problem can be seen in children of 5-7 years of age. As they have been brought up and all the attention for all these years, the news will be hard to take on for them. All they feel is their love and attention from the parents will be divided, and they'll not get as much time as they want from us. 
You need to deal with all the questions from the kids following along with insecurities and doubts. You need to be patient enough to answer them.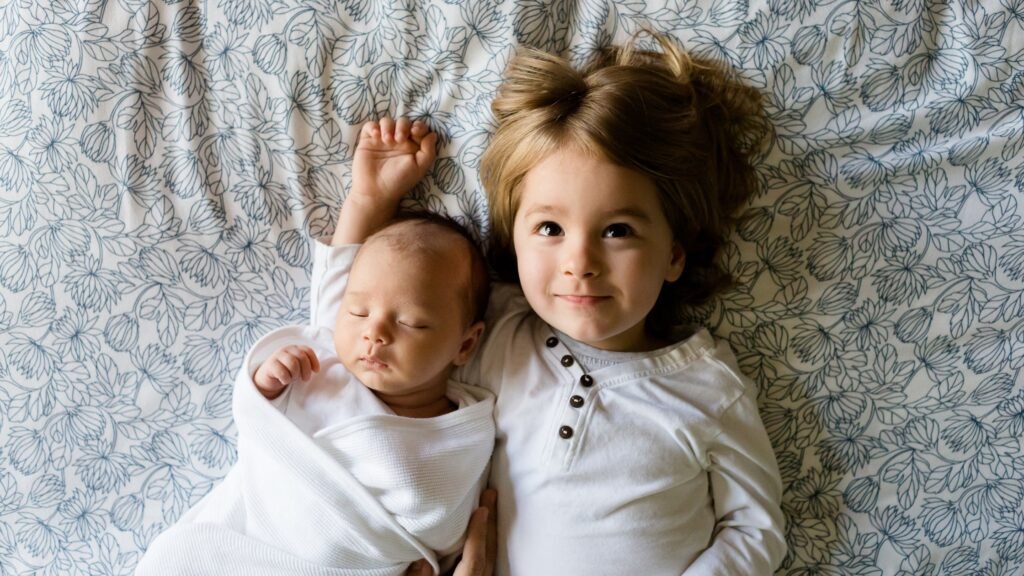 Conclusion
It is essential to have a fun and positive revelation to tell kids you're pregnant for the kids to have a good and positive vibe about the baby from the very beginning. Then there should be a fun gender revelation with all pink and blue decorations.
You should not tell the kids about anything related to how everyone will care about the new baby more and stuff like that. Make them feel like there's no competition and comparison between the kids.
It is upon you to bring positivity about this matter. As it is a very sensitive matter that can affect the emotional well-being of the older child, you need to handle it carefully. Kids will slowly adjust to it with a bit of love and guidance from our side and start building a beautiful sibling bond that they will cherish for life.