It's tough to be a mom; you have lots of work that you need to do. For stay at home moms, we all know how difficult it is to manage jobs and take out time for themselves. Sometimes, you might even miss your professional life and want to get back to work, but then you remember your child's responsibility. 
Managing professional work as well as looking after kids is the art of parenting. You may have a desire to have a career and, at the same time, be there for your kids. If you miss your professional life and want to resume your work, you can work from home. 
There are many jobs for stay at home moms; you can select the jobs you like to do and have some professional life. 
12 Jobs For Stay at Home Moms
Jobs for stay at home moms come with flexible schedules. You can do these jobs when you have free time, and you can help your partner financially and be financially independent at the same time. Here are some jobs for stay at home moms that you can select as per your interest.
1. Freelance Writer/ Blogger
The first job on the list of jobs for stay at home moms is a freelance writer/blogger job. If you love writing, you can choose the job of blogger or freelance writer. The job has extremely flexible work hours. You can get a handsome amount of money by working from anywhere you like to work from. Blogging is one of the popular jobs for stay at home moms. 
Many websites are looking for bloggers who are parents as they want to publish more articles on parenting. You can select websites where you can share your experience and earn a good amount of money. What's interesting about freelance writing is that you do not need to invest a single penny in learning how to perform the job. 
You can earn $2166 to $8666 per month, depending on your experience and your writing skills. The more readers you can get, the more income you are likely to generate. 
2. Data Entry
If you feel like you have high concentration power, you can give it a try for a data entry job. Data entry jobs need high attention so that there is no mistake, and as a parent, you already have high attention. You can do a data entry job whenever your kids are sleeping or at their pre-school. 
You need to choose a data entry job only if you feel you are careful of your work. The job does not require a specific education degree or training, and all you need to have is good typing skills and good attention. You need to make sure that you do not make any errors while doing your work.
On average, as a data entry personnel, you can earn $35,833 per year. At the same time, their hourly wages vary from $10-$15 per hour. 
3. Childcare
Being a mom, you know who to handle a child, so why not utilize your experience of being a mom to take a childcare job. You can be in-home childcare or babysitter for your neighbor or your friend's child. An in-home childcare job is suitable for people who love children and want to inspire children in many ways. 
The job is not just beneficial for you financially, but it is also beneficial for your children as it helps them socialize. Before you start the childcare job, you need to know the rules of the place where you live. 
If you want to find in-home childcare jobs near your place, first of all, you need to check ads in the local newspaper. You can even post an ad about yourself on local Facebook parenting groups.
For a childcare job, you can charge around $30 per day to $600 per month. Your rate can vary based on where you live. If you live in the city area, you can earn more from a childcare job, while in a remote area, you might not earn as much as you earn in the city area. 
4. Customer Service Representative
The next job that we have for stay at home moms is customer service representative. If you have good communication skills and can deal with people in a better way, you can work as a customer service representative. As for this job, you need to handle customers in a good manner no matter how rude they are to you. 
You should be able to deal with any queries quickly and efficiently. While starting a customer service job, you need to be well informed about products in your company. Always be prepared for what your customers will say and ways to handle it. 
For a customer service representative, you will need proper space from where you can work. In other words, you need to create your home office from where you can work. 
Taking about the wages of customer service representatives, a customer representative can earn on an average $10-$21 per hour. A customer representative can earn $37,907 per year. 
5. Social Media Manager
Social media managers can also be flexible jobs for stay at home moms. You might be well aware that every business maintains social media accounts, and they need separate personnel to handle their social media presence. So why not take a job as a social media manager if you are into social media or have a strong social media presence.
You can promote the business through social media. The job requires you to spend as much time on social media as possible and help the company grow. You must create the contents of your company on social media and keep customers engaged on it. 
As a social media manager, you can earn an average of $10-$30 per hour. You can take the job of social media manager from anywhere you like. Importantly, it would help if you are confident regarding your skill while working as a social media manager. 
6. Proofreader
If you can easily catch errors or are extremely particular about grammar, you can choose a proofreading job. Proofreading is quite an interesting job for moms extremely into reading and can easily detect grammatical errors. For proofreading jobs, you will not need any additional skills, except your grammar needs to be perfect. 
Apart from checking grammar, for proofreading, you also need to check the article's consistency, punctuation mistakes, article format, facts, and so on. A proofreader is one of the flexible jobs for stay at home moms as you don't have to sit for 8 hours straight to complete your jobs. You can work anytime you like but have to complete your work on time.
You can get the job of online proofreader on sites like Upwork, Fiverr, flex jobs, etc., and can earn an average of $43,126 per year. Or you can earn $20 per hour working as a proofreader. 
7. Resume Writer
Trust me most people need help when it comes to writing resumes. If you are good at writing resumes and have good resume writing experience, you can make a resume writing your job while being a stay-at-home mom. 
Fresh graduates or retired people who want a part-time job are always looking for someone who can help them polish their resumes. So why not take it as a job if you have plentiful experience in resume writing. 
All you will need is information that your client wants to add to their resume for resume writing. The work is similar to data entry, as you must add information to the resume format that you have prepared. If you are freelancing resume writing work, then you can have your experience.
You can earn $16- $35 per hour, or every year, you can earn $32000 to $73000. You can get the job of resume writing in sites like Fiverr, Upwork, Flexjobs, and so on. 
8. Online Tutor
The next job for stay at home moms is online tutoring. If you were a tutor before or love to teach, then why not be an online tutor while being a stay at home mom. Being a parent, you need to help your little one in their education; you will experience being an online tutor. You can teach subjects that you love to teach.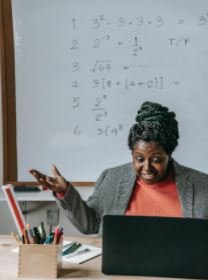 If you are applying for an online tutor job, you will not need a college degree or experience. But in this case, you need to be confident enough to teach. However, if you are applying for a company to teach, you need your bachelor's degree and teaching experience. You can make a good amount of through tutoring online.
As an online tutor, you can earn an average of $43,476 per year or $14- $25 per year. You can find a job as an online tutor in some companies like Teach Away, GoGoKids, VIPKids, etc.
9. Graphic Designer
If you were a graphic designer, you could continue your job as a graphic designer even when you stay at home as a mom. Graphic designers can get a flexible schedule and can work from anywhere they prefer. As a graphic designer job, you can create logos, designs for websites, ads, etc. You need to be creative enough and should use the tools you need while designing. 
The graphic designer's job is perfect for moms as this job will need problem-solving skills and should not get worried about working under pressure. As a mom, you have these skills. You can work under some companies or even create designs you like and sell them online. There are sites like Zazzle and Redbubble that are willing to purchase designs. 
You can earn $43,275 per year or even charge $75 per hour as per your skill. The job of an online graphic designer is easily available on Upwork, Fiverr, Designhill, etc. 
10. Web Designer
Web designers can also be suitable jobs for stay at home moms. You can be a web designer if you are interested in designing. It is one of the best jobs for stay at home moms as it has a flexible schedule. Web designers always have a longer project timeline, which means you can get more time to complete your work. 
Work flexibility is what makes the web designer job attractive among stay at home moms. The job allows you to be creative and has few repetitive tasks. You need to know HTML codes, JavaScript, CSS to be a web designer. 
It is also required for you to be creative and have great skills when it comes to designing. It would help if you had minimum training and experience to make web designing your job.
On average, you can earn $49,476 per year or $31 to $42 per hour. You can find the job of a web designer on online freelancing sites like Upwork and Fiverr. 
11. Accounting Clerk
If you have good knowledge of bookkeeping and accounting, an accounting clerk is another remote job you can take as a stay at home mom. As an accounting clerk, you need to maintain banking reports, statements, financial reports, and look after the accounting department. You also need to manage the day-to-day business transaction. 
You need to know accounting to take the job of accounting clerk. Even if you do not have a bachelor's degree in accounts, you need to have experience in the accounting department in bookkeeping to perform the job of accounting clerk smoothly. However, the job will require you to visit your office or your client once in a while. 
You can earn an average of $20 per hour. Experience and a college degree are what you will need as an accounting clerk. One thing that you need to keep in mind is you need to have a CPA license.
12. Interior Designer
An interior designer can also be another flexible job for stay at home moms if you love decorating your rooms and house. You can create your interior design by being a stay at home mom. You can tour your client's house through video calls or video consultation for an online interior designer. 
If you want to be an online interior designer, first of all, you need to build your portfolio. You can even create your websites to showcase your work in front of your probable clients. The better you do with your portfolio, the more you can get clients. 
As an interior designer, you can earn an average of $50-$150 per hour based on your experience level and your work. 
Conclusion
To conclude, leaving your profession and staying at home as a mom can be tough for you at first. If this is your first time as a mom and you want to continue your professional design and fulfill your mom's job, you can find remote working jobs. 
You can be financially independent and can support your partner financially by working remotely and taking care of your child at the same time. There are many jobs for stay at home moms that I have listed above, and I hope it will be helpful for stay at home moms who want to be financially stable. 
FAQ
What Occupations Do Stay at Home Moms Do?
As a stay at home mom, you can do the following jobs such as,
Online tutor

Blogger

Social media manager

Data entry

Affiliate Marketing 
What are the Highest Paying Stay At Home Jobs?
The highest paying stay at home jobs are,
Project Manager

Business Development Manager

Java Developer

Marketing Director
How Can I Work From Home With No Experience?
There are some jobs that you can perform with very little experience, some of them are,
Data entry

Customer Representative 

Sales Representative

Tech Support

Writer