My baby got rashes? How did that happen? I have maintained proper sanitation, feed my baby healthy foods, and taken good care of him but he still rashes. HOW? And how to cure the disease on my baby's hand, foot, and mouth?  
As a new parent, encountering hand, foot, and mouth disease in your baby can be troublesome. You may think rashes are caused due to diaper infection, allergies from a burn, or feeding them unusual food out of a food schedule. Your baby probably got a hand, foot, and mouth disease that is common among infants and kids.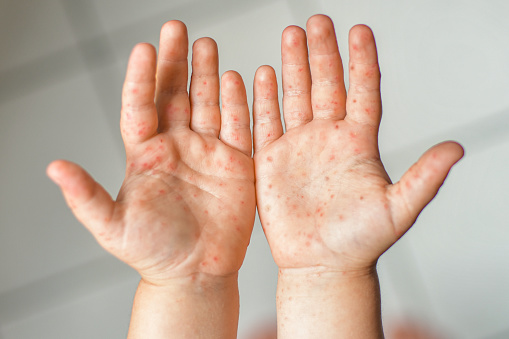 Causes Of Hand, Foot, and Mouth Disease in Kids
Coxsackievirus is the cause of hand, foot, and mouth disease. When your kiddo is affected by coxsackievirus, they get small blisters on their mouth. Lesion covers the bottom of the foot and palm of their hands. Those lesions are small and tender, and a slight touch causes bleeding, which is painful for babies.
Coxsackievirus also causes sores in the throat. Your baby will find difficulty eating food and drinking liquid due to blisters they get on the tonsil after a viral infection. Throat, chest, and abdominal pain are also commonly found medical issues caused by coxsackievirus.
Is Coxsackievirus Contagious?
Yes, Coxsackievirus is highly contagious. The virus can spread through unwashed hands and physical contact with the infected people's respiratory fluid, saliva, and feces. When the victim coughs and sneezes, the virus gets out and enters inside a healthy body.
The virus generally outbreaks during the time of summer. In summer, children are usually busy with daycares, schools, or camps where they are at high risk of meeting the victim of Coxsackievirus. So, supervise your baby properly during summertime and ensure your baby stays away from hand, foot, and mouth disease contamination.
Symptoms of Coxsackievirus
If your little one is infected with hand, foot, and mouth disease, you get to see these symptoms.
They get a high fever and headaches.

You can see blisters on the mouth area, the palm, and the bottom of the feet.

They no longer have the desire to eat.

They cry for throat, chest, and abdominal pain.

Due to discomfort caused by the virus, your baby will be more irritating than usual.
How Can You Treat Hand, Foot, and Mouth Disease?
Ultimately, there is no medical diagnosis and treatment for hand, foot, and mouth disease. You don't have to worry about hospitalization as the virus goes away within a few days or a week with proper care and sanitation. 
Natural cures are the best treatment for coxsackievirus. To reduce your stress regarding the coxsackievirus sign in your kid, I have summed up a few effective home remedies that you can apply to treat your baby. 
1. Use Salt for Bath and Mouth Rinse.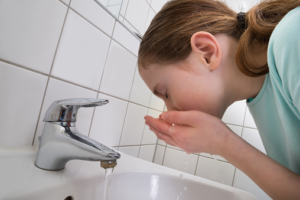 If your baby gets blisters on their mouth, make him rinse his mouth with warm water with a pinch of salt added to it. You can also use pink salt or common salt to rinse the mouth. With warm water and salt, your kid gets relief from the painful blisters around their mouth and throat areas.
While making your kid bath, add Epsom salt or Lemon to the water. Epsom salt and Lemon reduce the burn caused due to rashes. The bathwater reduces rashes and makes your baby less vulnerable to spread rashes to other bodily parts. 
2. Eat Soft Foods
When your baby is affected with coxsackievirus, they get blisters on their throat area. They often are picky about eating and deny foods. Your kids lose appetite resulting in less bodily energy that makes them even weaker. So, you should feed your kid. Make your toddler chew less and offer them soft foods.
3. Avoid Acidic Foods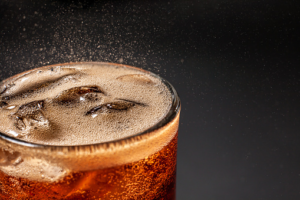 Since it's painful to swallow and chew food during coxsackievirus, you need to avoid a few foods. It would be best if you ban drinks, cold beverages, and sodas when your kids get infected with hand, foot, and mouth disease. Citrus fruits, citrus juice, acidic foods, tomato sauce, and foods that are more spicy and salty are also not a good treat for your little ones.
4. Eat Cold Foods
Cold foods for your toddler are suitable when they suffer from a viral infection, that is, Coxsackievirus. Make them eat ice cream and smoothies more often. Give them frozen snacks, ice pop, or tell them to suck ice chips.
Cold foods make the area on the mouth covered with blisters numb, reducing the pain. Cold foods are easy to eat with no burden for swallow and chew.
5. Keep Your Home Clean
When you maintain hygiene, the first thing you need to do is keep your house neat and clean. Clean the floors with soap-infused water or using dewdrops of disinfectant liquid such as Dettol or Lizol. Cleaning removes dust, germs, and remains to make your home no more contaminated.
Also, doorknobs, switches, washroom, toilet seats, tables, furniture, dining chairs, etc., are likely to be contaminated with Coxsackievirus. So, you should make sure you clean all of these high-touch surfaces and keep your baby safe from viral infection.
6. Wash Hands
You need to make your baby wash hands frequently using disinfectant hand wash. As a mom, you also need to wash your hand thoroughly while preparing foods, feeding your baby, and before and after changing the baby's clothes and diapers.
7. Apply Oil
Coconut oil is one of the most effective disinfectant oil for hand, foot, and mouth disease. Apply coconut oil on the surface of your child's skin where they get rashes or blisters or burn. Coconut oil helps to soothe rashes faster. 
Use few drops of lemon essential oils and lavender essential oils on bath water which helps to nourish the skin and reduce the burn from rashes. If your child gets ingrown blisters on the mouth, let them gargle for 5-7 minutes with warm water that contains a tablespoon of either coconut, sesame, or peanut oil. 
8. Use Garlic
Garlic has a therapeutic effect on infants and kids who are victims of Coxsackievirus. Use more garlic on your baby's food. If your baby dislikes garlic, offer them food with drizzled garlic oil on top. Soak 3 to 4 cloves of garlic in water overnight and make your kiddo drink the water in the morning. 
You can also make a herbal liquid from garlic by cooking 3 to 4 cloves of garlic in water and make your kid drink lukewarm herbal garlic water. Garlic in the form of a tablet is also good, but consult with doctors for garlic capsules might harm kids.
9. Nutrition
Healthy food is needed for your little ones when they get hand, foot, and mouth disease. Nutritious foods boost immunity power that minimizes further infection of the Coxsackievirus. Make your child eat cold bone broths that keep skin healthy. 
Foods rich in Vitamin C such as Strawberries, Potatoes, Broccoli, and Oranges are given to babies infected by Coxsackievirus. You should make sure to include fruits in your kids' frozen smoothies. Also, cook foods that are soft and are not too hot when served.
10. Hydration
When kids have mouth infections, they deny drinking much water or liquidy foods as it gives them burns while chewing and swallowing. However, it is essential to keep your kid hydrated when they have hand, foot, and mouth diseases. So, you must make their favorite drinks and feed them healthy drinks that are rich in electrolytes.
Let your kiddo drink coconut water, herbal tea, watermelon water, iced tea, orange, and lemon juice when they are victims of Coxsackievirus. 
11. Licorice Roots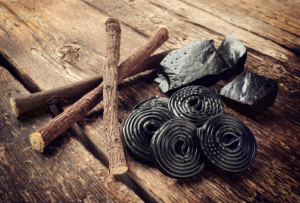 Licorice roots are primarily used as herbal remedies for numerous medical problems and are also a suitable herbal treatment for Coxsackievirus. The antiviral activity of licorice roots works by soothing skin rashes and sore throat. 
Make a licorice tea for your baby and drizzle a tablespoon of water. To make licorice tea, you can either use direct organic root, cook in water for 10 to 15 minutes, or use a licorice tea bag. Further, use licorice to flavor your baby's food to fight against the virus. 
Conclusion
To sum up, hand, foot, and mouth infection is a contagious viral disease in children. Coxsackievirus is the medical term used for the disease and is mainly caused due to poor and unhealthy living environments.
Your kid will get symptoms like rashes or blisters on the mouth, palm, throat, and foot when they are infected by Coxsackievirus. The infection generally lasts for a week or more. 
You don't have to worry much about these viral infections, you can cure them naturally. I have suggested the 11 best effective home remedies treatments for hand, foot, and mouth disease that are helpful for you and your little ones. Please try our home remedies and let us know if they are effective or not.