Worried about what your kids might be doing on their phones? Read this blog to learn about the 7 best apps that you can use to monitor your kid's iPhone.
As a parent, you need to be aware of what your kids do daily. Kids nowadays share hours of screen time, and you are generally unknown what they do on their phones. Some parents closely observe their children; some believe their child is doing nothing terrible, while others let go.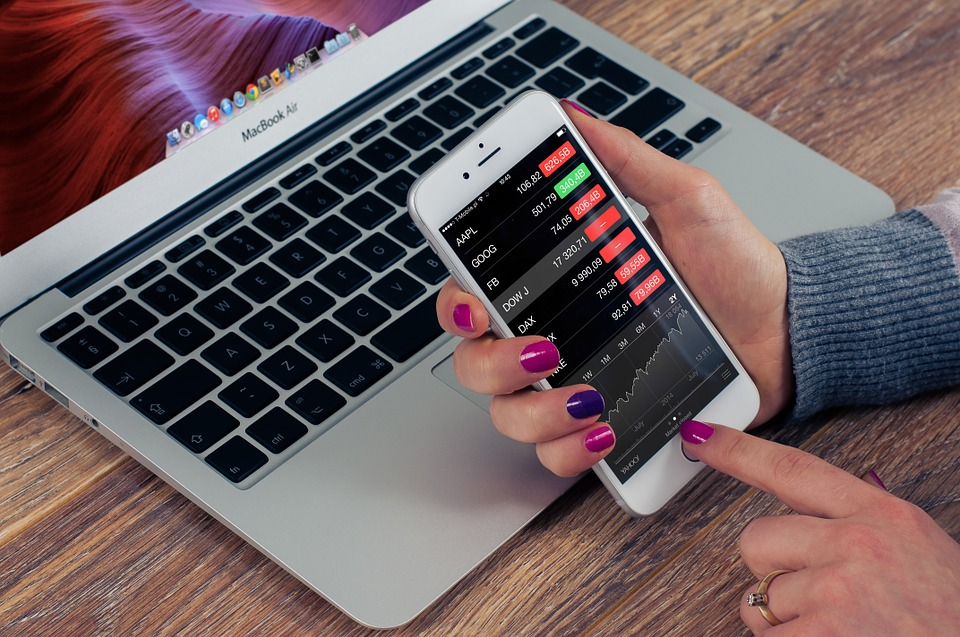 Do you want to know where your kids are, what they do, and whom they talk or meet?  Are you searching for an optimal solution? Fortunately, you are in the right place to learn about various cell phone tracking apps applicable to iPhones. 
You might irritate your kids if you ask for detailed daily updates. Technology has introduced several apps to monitor Android and iPhone devices. Now you can quickly download and install monitoring software on your cell phone and keep an eye on your kid's device. Here in this article, I'm going to tell you about the best apps to monitor your kid's iPhone.
What Do Monitoring Apps Do?
If your child carries their iPhone every time and wherever they go, you should probably check the mobile activity. In such cases, use monitoring apps that provide real-time information about your child's device activities. 
If you use tracking apps to track your kid's iPhone, you get the real-time location of your kiddo. You get the details on what they do on social media like Facebook, Instagram, Snapchat, and Twitter. You can also get through their conversation about cyberbullying, blackmailing, sexting, sharing adult content, etc.
Getting access to text messages is not a big deal if you use iPhone tracking devices. Apart from social sites, you can quickly get incoming and outgoing call history and the time they make phone calls. Besides, through monitoring software, you can check your kid's browsing history. 
From tracking applications on the iPhone, you cannot just supervise a child's activity on the screen, but you can also block inappropriate apps and websites to restrict visits for your children. 
Best Apps To Monitor Your Kid's iPhone
There are several monitoring apps available to keep track of your child's iPhone. Based on the apps' features and customer reviews, I have listed 7 of the monitoring apps that I prefer to use for monitoring my child's IOS device. Please have a look.
1. Screen Time Monitoring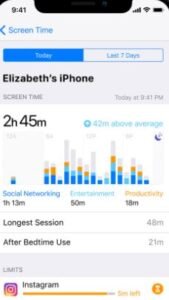 Screen Time Monitoring app for iPhone tracks the time your child spends on their iPhone. You can get the basic free version or premium version of the app. You need to pay $3.99 per month and $39.99 per year to get a premium plan for the app. 
The app displays a timetable of your children's time spent on the screen. You can see the exact time they spent playing games, using social media, communicating with people, and browsing websites. Based on the screen time, you will know about the app your kiddo uses the most.
Screen Time Monitoring app features Geo-trips and Geo-fencing. Geo-trips give a route your children follow to go to the destined place. Geo-fencing alerts you when your children check out from a specific place. 
Features of Screen Time Monitoring:
You can use the blocked access option to communicating media by blocking apps.

If your kid spends most of their time gaming, you can block games.

You are notified whenever your kid installs a new application on their iPhone.

Through the

'Screen Time Monitoring'

option, you can limit phone calls, messages, and FaceTime.
2. FamiSafe
FamiSafe is another best parental control app to monitor a child's iPhone. The app allows you to locate your kid's real-time location and display history on the place they visit. It keeps your children protected from sexual predators and cyberbullying.
You can supervise call logs, messages, social media activity, and web content they visit. The feature for blocking apps and websites is also available in FamiSafe. Or, you can set a time limit for certain apps to minimize the time spent on screen time.
The monitoring apps are available in the basic free and premium version. From Google Play, you get to use FamiSafe for 3 days free. To get a premium plan, you need to pay $9.99 monthly, $19.99 quarterly, and $59.99 yearly.
Features of FamiSafe:
FamiSafe has the option of blocked access to web adult content.

You can block unsafe apps using FamiSafe.

The app traces real-time GPS location.

You can track the time your child spends on-screen and manage screen time as well.
3. XnSpy
XnSpy is another commonly used tracking software on iPhone. The tracking app gives you detailed information on your child's activity on the iPhone. It displays the time they share the most prolonged hours of screen time. 
The app monitors call, chats, photos, videos, and or multimedia content shared over social media. WhatsApp, Facebook, Instagram, Viber are some of the apps monitored through XnSpy. You will also receive instant alerts on SMS, locations, and phone calls your child receives.
You need to get a premium version of XnSpy to use the app which costs from $59.99 to $149.99. The cost of basic XnSpy ranges from $49.99 per month to $99.99 per year. 
Features of XnSpy:
You can browse the internet browsing history of your kid.

XnSpy allows you to see phone logs and activities on social media such as Messenger.

You get the real-time venue of your child if they carry iPhone along with them.

Installation of XnSpy on your device lets you see clicked and share photos and videos on your kid's iPhone. 
4. Spyera iPhone Monitoring
With the use of Spyera, you can keep your kiddos safe from online bullying and cybercrimes. Spyera iPhone Monitoring is also used to track phone logs, SMS, social media content, and websites your children browse. You will get notified if your kid gets access to adult content. 
In addition to these features, you can get recordings of phone calls, both incoming and outgoing calls, using the app. You will get to know if your kid changed or removed his SIM card. The app downloads all the media content, like photos and videos taken from your kid's iPhone.
Unfortunately, there is no free trial available in Spyera. However, for the premium plan, you get 10 days refund policy. The pricing plan starts with $89 per month and $389 per year.
Features of Spyera iPhone Monitoring
You can remotely control your kid's iPhone

The app lets you block unsafe websites and mobile applications.

You can trace real-time GPS location.

Spyera iPhone Monitoring lets you monitor call history, messages, and deleted text messages.
5. MamaBear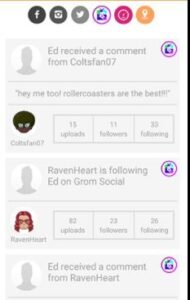 MamaBear is regarded as one of the best parenting apps to locate a child's venue and screentime on social media usage. Facebook, Instagram, and Twitter are a few networking media where your kids are primarily busy these days. If you wonder what they do on social media, download MamaBear and you are ready to spy on your kid's iPhone.
The monitoring app comes with the features of direct messaging to your child. You are notified of every activity they do on social media. While monitoring your child's iPhone, you can see their public status on any of the social media applications.
MamaBear has a free basic and paid version. The pricing for the app has a month, quarterly, six-month, and yearly premium plan. You need to pay up to $24.99 to get MamaBear on your device.
Features of the MamaBear:
You will know uploaded photos, check-ins, and new tags of your child's social media account.

You will be aware of your kid is a victim of cyberbullying.

MamaBear notifies you if your children drive safely and limit their speed.

The monitoring app gives you an alert for real-time location. 
6. OurPact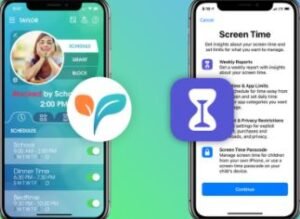 Another effective parental control app to remotely control your kid's iPhone is OurPact. The GPS family locator app helps you to schedule screen time for your kiddo. It tracks GPS location and notifies you about every travel of your child.
You can either block access to apps or internet connection any time you want on your kid's iPhone through OurPact. OurPact has a 'Block Texting' option through which you can limit SMS and iMessage access. The app is featured with Geo-fences that locates kid's arrival and leave time from home and school. 
OurPact has multiple plans for app usage. You can use either the free version, plus version, and premium version of the application. Plus version costs you $1.99 a month and the premium version of $6.99 a month.
Features of OurPact:
You can grant access or block internet usage and mobile applications.

OurPact traces the real-time location of your child.

You can set app rules either by blocking, scheduling time to use the app, always allowing app usage.

OurPact notifies you when your kid's screen time is either in use, paused, or spent.

Monitor their kids by Blocking SMS and iMessage with the installation of OurPact.

Further, you can filter adult content and view gallery contents with OurPact. 
7. Highster Mobile
Install Highster Mobile on your device to monitor your kid's iPhones and keep them safe. Like other monitoring applications, Highster Mobile also allows you to track messages, call logs, social media content, internet browsing, and so on. The app is easy to use, and your children won't know if you are spying on them.
You can constantly monitor your kid's iPhone GPS location. With Highster Mobile, you will get detailed information on internet browsing history. Without letting your kid know about the spy, you can control iPhone's camera through stealth commands.
The pricing for Highster Mobile is set based on Basic Package and Pro Package. You need to pay $2.99 and $6.99 for the Basic and Pro package per month. Similarly, for yearly payment of Basic and Pro Package, you are billed $29.99 and $69.99.
Features of Highster Mobile:
Highster Mobile tracks GPS location.

The app has a Live Control Panel to access details of the targeted iPhone.

Monitor their kid's SMS text messages, call logs, messages, and browsing history.

Keeping an eye on the activity of Facebook, Whatsapp, Instagram, and Snapchat is feasible.

You can view all the photos and videos saved on the gallery and shared on networking media.
Conclusion
Spying on your children's phones is not that difficult nowadays. Install monitoring apps on your cell phone and get access to your child's iPhone without letting them know.
To make it easier for you to decide on appropriate monitoring apps for iPhones, I have rounded up 7 monitoring apps. Screen Time Monitoring, FamiSafe, XnSpy, Spyera iPhone Monitoring, MamaBear, OurPact, and Highster Mobile are the iOS apps on my list that you can use to monitor your kid's iPhone. Would you please go through each app's features and let us know if the suggestions are helpful to you?