The best way to deal with a disrespectful grown child is to first determine the source and reasoning for his or her misbehavior. Disrespect from your adult child can tap into the ultimate parental fear of losing them.
All your years of sacrifice getting devalued is a painful aspect of being disrespected by a grown child. The problem is that your identity as a human being is related to what your children think of you. 
Parenting is a challenging job, and some parents may have difficulty raising a good child. Others are afraid about raising a child who is disrespectful to their elders. But if you know a few things, raising a decent child who respects you and their elders isn't so difficult.
As a parent, you have always wanted and will continue to want the best for your child. Perhaps you've made a few mistakes, or you didn't have the best upbringing. 
But, you soon find yourself the target of your grown child's sarcastic remarks, attitude, and resentment. So, what can you do now? How can you keep your adult child on their best behavior? Because you've done and given to your children everything you can. And all you want is a little love and attention, as well as some respect.
Reasons for Adult Children's disrespectful behavior
There might be a few reasons for your Adult Children's disrespectful behavior:
Something is bothering them, but they are either unaware of it or unsure how to deal with it.

They never learned to control their emotions which results in disrespectful behaviors.

They're being mistreated at work, and they're taking out their anger on you.

They're feeling overflowed by intense emotions, and you're providing a haven for them to release them.

You have criticized or judged them, and their defense is passive aggression or rude behavior.

They felt controlled as a child, and they act rudely and mock you because you can no longer control them as adults.
There is a unique relationship between every parent and child. Every child is unique, and there is no one-size-fits-all answer. Disrespect is a red sign in any case. It indicates that something is missing, such as a boundary or a heart-to-heart talk. It is necessary to understand more about your disrespectful adult children.
What to Do to Deal With Your Disrespectful Grown Child?
It's difficult for a parent to deal with a disrespectful grown child. Because they don't feel as empowered to create rules or impose restrictions on grown adult children as they do on younger children. Whether you intended it or not, your personality and decisions may have caused problems for your children. Here are 5 things that you can do to deal with your disrespectful grown child:
1. Pay attention to what they're saying without interrupting them:
All your grown children want is to be seen and heard. Thus, listening to them without interruption is the first step in the right direction. It's because they don't think their parents understand them. 
And they don't want to harm their parents. Children take a long time to face their parents with their resentments.
In any case, when listening, it's better to be more open and non-judgmental. In contrast, it may be difficult to accept your child's negative view of you when you never intended to hurt them.
Hearing without arguing indicates respect for the truth of how your child feels. This creates strong bonding between them. Talking about what they have in their mind also helps to develop their social skills.
2. Let go of your ideas about how your child should look and act:
Expectations can lead to disappointment, conflict, and an inability to admit reality as it is. Let go of common assumptions about how your children should react even though they are your child. 
You are setting yourselves up for prolonged conflict if you continue to expect your family to be the perfect image of what you want them to be. Accept it if your adult child stays an hour doing things that you want them to do instead of the hours you expected. 
Recognize that it is a step in the right direction rather than rejecting it. Accept them because it does not match your ideal vision of how your grown children act.
3. Improving communication with family:
Parents who deceive or intimidate their children lose their trust. It makes children feel bad about themselves. It's not uncommon for children to begin lying to their parents. As a parent, you are capable of deducting the reason behind this. It reaches a point where children start lying to their parents, and it becomes a habit. 
This results in having a hard time dealing with social and psychological challenges, which may later cause a mental illness. So, both parents and children should be aware of positive behaviors. They should work together to improve communication.
Spending time with children and improving communication. It is possible in a variety of ways, including: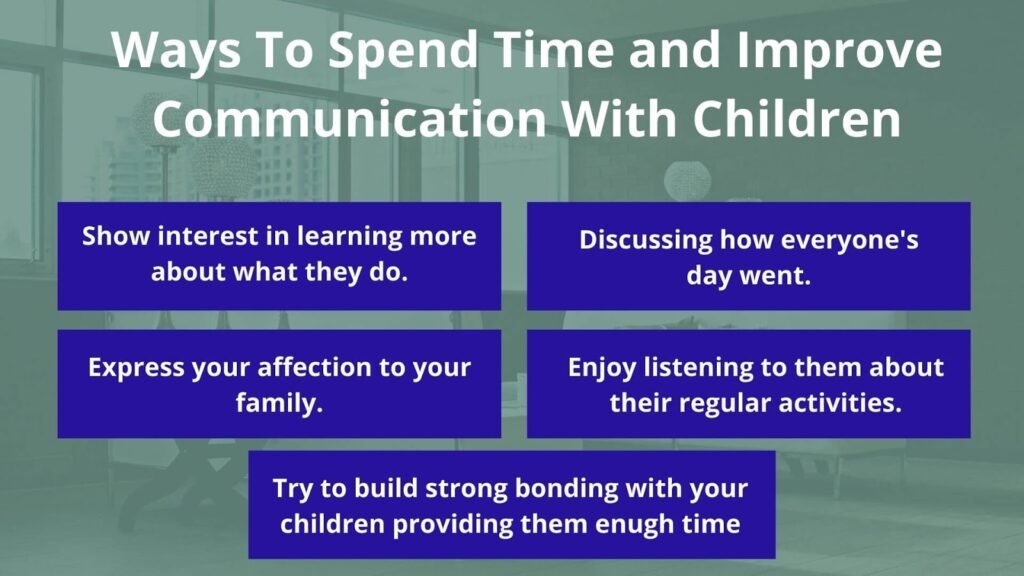 Show interest in learning more about what they do.

Discuss how everyone's day went.

Express your affection to your family.

Enjoy listening to them about their regular activities.

By taking advantage of your time together, you can create a strong bond together.
4. Change in parenting style:
Permissive, domineering, submissive, and negligent parenting styles have a significant impact on children. It has an impact on who they become as adults. Individual parents' parenting approaches mix to form a unique blend in each family. The father can have a strict personality, whereas the mother can have a more permissive personality. 
Parents must learn to mix different parenting styles to establish a unified parenting strategy. You can also take parenting classes if necessary. Some parents use a set of principles known as absolute standards to test, influence, and manage their children's attitudes and behavior. 
According to the rules, children will have to follow a strict schedule. Punishment follows if they do not obey the rules. But, if a grown child has an aggressive personality, it may also create power struggles.
The only way you would get respect from your children is when you treat them with kindness. So, guide them in a kind manner and avoid leaving any gaps that could lead them down the incorrect route. Teenage years are exceptionally delicate, and they dislike having to follow strict rules. 
Hence, adapt your parenting style to one that is more appropriate for the younger generation.
5. Avoiding embarrassment and dishonesty:
Parents who use humiliating ways to discipline their children are doing more harm than good. It is not appropriate to embarrass a child or make them feel inferior or humiliated. These types of punishment can lead to mental issues in the future, such as anxiety, depression, and violence among youngsters. 
Also, humiliating punishments can harm the parent-child relationship and lead to a cycle of bad behavior and passive aggression. Furthermore, public humiliation is more likely to push them away from you. A positive approach has a far more impact on behavior than any form of punishment. 
The best way you can deal with your disrespectful grown child is through honesty. Honesty serves as a platform for other characteristics such as trust, respect, humility, and integrity. An honest individual is transparent, trustworthy, and motivating to others. 
Being honest makes you more trustworthy. You can use your conscience to help you make decisions. You should avoid exaggerations, and you should always consider what you want your reputation to be in front of your children.
An honest parent serves as a role model for their children, encouraging children to preserve trust and honesty. 
It is best to avoid the issue first and then deal with a disrespectful grown child later in life. 
Instead of becoming violent and punishing them, you should make them aware of their mistakes and learn from them. 
Life is a great gift that parents have given to their children. And by criticizing parents, they are demeaning themselves because they may one day become parents.
It's also important to remember that school and college degrees aren't everything. Even if a person is well educated and holds many degrees, they may show contempt to their parents due to prior events. 
Even if a person is with an insufficient level of education, they may exhibit a lot of respect and empathy for their parents. 
Focus on your children's moral development
Focusing on your children's moral development would be the best way to make them learn about filial piety. It helps to teach them the value of their things and work hard for the things they want in the future. Things that are easy to get lose their value. Thus, creating a reward system might help them focus on a specific goal.
Conclusion:
Even if you are a wonderful parent, you may have an unintended negative impact on your child. 
But, keep in mind that an ungrateful adult child will not change into a selfless and caring individual. On the other hand, parents can help their children in becoming mature, respectable, and well-behaved persons. 
Parents who improve their behavior to mend the bond with their children and let them realize. Their children are less likely to become disrespectful adults.
Also Read: All You Need To Know About Child-Rearing
Also Read: 12 Best Jobs For Stay at Home Moms