Books are man's best friend. It's important for you to teach your kids to read starting from children's books as early as possible. Books give helpful information and knowledge and become one's companion in good and bad times. Nowadays, people are ignoring books and have switched to digital devices. Every child and adult is avoiding books.
Reading and learning should be started at a very young age so that everyone could value the learning process and kinds of stuff. Children need to learn and explore books to have a unique way of thinking and viewing everything around them.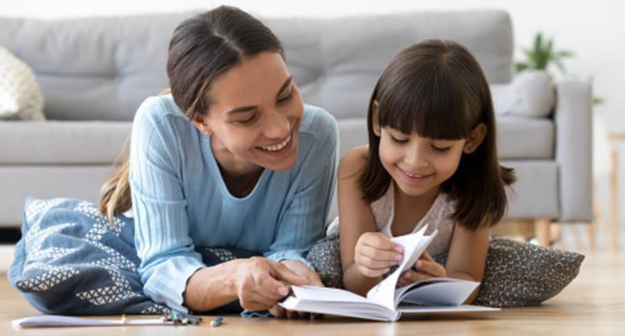 With the help of books, children could analyze things, develop creativity, research ability, and improve their qualities. Tons of books are written for children to read and explore discoveries. To try kids to pull towards studying, various pictorial, fun, and exciting books are found.
Benefits of Studying Books For Children:
Every day, reading stories, chatting, and singing with your child benefits their growth in various ways.  You should not necessarily read from a book when sharing stories with your kids. If you read books with your kids then that is a good sign of parenting.
You will be a good storyteller and a great model for using expressions and texts simply by looking at books with your babies and communicating about them. Your infants will pick up on the proper way to hold a book and how to travel through it by softly turning the pages and watching you.
Todays kids are busy with online games unaware of its dangers and prefer it to reading books. As there are uncountable advantages of reading books in children, here are some points that might be beneficial for you:
Assist your child in becoming familiar with sounds, words, and vocabulary and developing early children's learning abilities.

Children could learn to appreciate the importance of books and tales.

Reading children's books encourages the child's creativity and curiosity.

Learning new things from books daily aids in the development of your children's brains, attention, social skills, and communication abilities.

Assist your child in distinguishing between "true" and "made-up" situations.

Enable your child in comprehending unfamiliar or terrifying events, as well as the intense feelings that accompany them.

Facilitate your children in learning about the world, their history, and that of others.
The Best Children's Books
Every book has its importance. It will be an injustice if we start rating the valuable books in minor numbers. Each book teaches us about new things, discoveries, and lessons. It depends on readers what kinds of a book they enjoy reading. You can guide them as a parent to choose their best book. But sometimes parenting in itself needs guidelines. We have tried to solve this for you.
You can find many varieties of children's books in the market. It becomes confusing for parents to choose which to buy and which not to buy. To remove your dilemma, I have selected a few children's books that may be beneficial for your kids. Some of the valuable books are as follows:
Madeline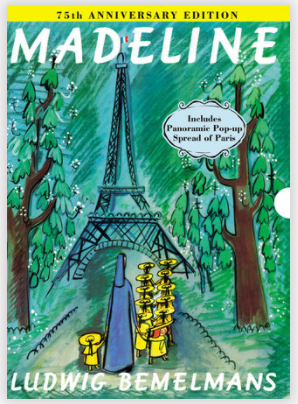 Madeline is the best book for pre-kindergarten or kindergarten kids written by Ludwig Bemelmans. The lead heroine visits Paris with her classmates in this charming tale first published in 1939, only to have her appendix removed! 
The title girl is the smallest in her class, but she is also the bravest, and she faces a potentially frightening situation with courage and fearlessness. The story is even made more relaxing by the soothing rhymes. It describes the beautiful adventure of a little one which children would enjoy.
The story revolves around a group of 12 girls who attend a Catholic Boarding School in Paris. Madeline is the youngest of children, aged seven, and the only one with red hair. The photographs are classical in appearance and depict scenery and landmarks that attract the children's eyes.
Goodnight Moon
Margaret Wise Brown wrote Goodnight Moon and Clement Herd illustrated it for children in the United States. It is a famous bedtime story that was first published on September 3, 1947. It consists of a rhyming poem which babies and toddlers would love. Parents can also use this book as lullabies.
The story is a rhyming poem about an animated bunny's bedtime routine of saying "good night" to several immaterial and living items in his bedroom, including a red balloon, a set of socks, the bunny's playhouse, a bowl of pudding, and two kittens; besides the kittens, a mouse appears in each section.
The book starts at 7:00 p.m. and finishes at 8:10 p.m., with each split ten minutes apart, as shown by the two clocks in the room and mirrored in the rising moon. Like the other stories in the book, the illustrations vary between two-page black-and-white spreads of items and two-page color spreads of the room; this was a typical cost-cutting strategy.
If You Come to Earth
The book was written by Sophie Blackall, two times Caldecott winner author-illustrator. If You Come to Earth is a beautiful guide to our home world, as well as a call to care for the Earth and one another. The author's journeys around the world in favor of UNICEF and Save the Children have inspired her to write this beautiful novel.
A captivating story about a single optimistic and imaginative kid is the main focus. It is funny and emotional at the same time. Sophie wished to send a strong message about the importance of caring for the Earth and one other. Significantly, kids should value their home planet and the people living on it.
"If you come to Earth," a child narrator begins, "here's what you need to know." Blackall keeps her word: her excellent book appears to contain various items, including every river, flower, human, cruise ship, and bottle cap on the planet.
Outside In
A mindful reflection on the many ways nature impacts our daily lives is what a writer Deborah Underwood wants children to understand, along with an illustration by Cindy Derby. The lavish art of Derby and the softly insightful text of Underwood pays tribute to nature.
Outside, the most pleasant companion of all is waiting. The buddy with the most compassionate heart, the most fantastic inventor; this assumed picture book poetically highlights our everlasting and robust bond to nature, which is not quickly overshadowed by lifestyles spent indoors.
Symbolic, emotional, and rhythmic language explains how our world works, and the various ways Outside participates in supporting and curing us and reminding us that we are all part of a much larger universe. Beautiful, simple, and unique drawings reflect the simplicity, perfection, and wonder that awaits us all… Outside.
Loretta Little Looks Back: The Voice Go Tell It
A creative, wonderfully written novel from a bestselling and award-winning husband and wife team gives readers a front-row seat to the memorable moments that led to African Americans gaining the right to vote. Andrea David Pinkney was the writer and illustrated by Brian Pinkney.
This novel of read-aloud dialogues filled with southern vocabulary and rhythms and sprinkled with poems and songs follows three generations of children in one imaginary Mississippi family as they face challenges ranging from slavery to voter suppression.
Each character is a powerful counterexample to the others, and the gradual progression from Racial Segregation to the 1960s illuminates a little-known aspect of American history while still making it profoundly personal. With rounded frames and vibrant features, illustrator Pinkney's bright drawings open and close pages, memorably linking and illustrating the story's themes of family and land.
When Stars Are Scattered
This remarkable graphic novel, a National Book Award Finalist, is about growing up in a refugee camp as told to the Newbery Honor-winning author of Roller Girl by a native Somali Refugee. Victoria Jamison and Omkar Mohammab are the author and illustrators of a great book.
The thrilling graphic novel portrays Omkar's real-life experiences as a Somali refugee in Kenya's United Nations-run Dadaab camps for fifteen years with his younger brother. For children aged 8 to 12, the book beautifully portrays life in a refugee camp.
In the Graphic novel "When Stars Are Scattered," a childhood spent waiting, and a young man who can build a sense of family and home in the most challenging of circumstances, heartbreak, hope, and gentle humor co-exist.
Ways to Make Sunshine
Renee Watson, a Newbery Honor and Coretta Scott King Award-winning author, introduces us to Ryan Hart, an African American character, "with a name that many boys have" who is a confident, brilliant and aspiring chef. Nina Mata's illustrations carry it all together.
Watson's cast of various colors, sizes, ages, and hair textures come to life through Mata's sketches, and Ryan's interests become vital as we see the world through her eyes. Ways to Make Sunshine is a fantastic start to a new middle grades story, and readers will be eager to follow Ryan through middle school.
Readers will want to know what happens next because the book ends in suspense. Ryan Hart, a black fourth-grader, is a bright, creative young girl who excels at "making a way out of no way." Every kid should once read such an inspiring story.
We Dream Of Space
We Dream of Space, by Erin Entrada Kelly, received a Newbery Honor in 2021, and parents should be aware of this. It is a fascinating and moving middle-grade novel about family, friendship, communication, science, and the Challenger disaster.
The author provides specifics in the back of the book about the astronauts and civilians who were on board and links to resources for more information about the spacecraft explosion minutes after takeoff. Bullying and name-calling play a vital role in the book.
One of the characters is often irritable and has outbursts, such as calling another student "stupid fat cow" in presence of the whole class. The Thomas parents often argue in front of their children, and their swear words are marked with a [bleep] rather than being written out entirely.
Everything Sad Is Untrue
Daniel Nayeri's Everything Sad Is Untrue: (A True Story) is a "memoir" told by a mesmerizing blend of fiction and nonfiction, which parents should be aware of. It was named the winner of the Michael J. Printz Award for Young Adult Literature in 2021.
In Nayeri's autobiographical novel about his family's migration from Iran to America, a present-day Scheherazade uses storytelling to get through fifth grade. Families should discuss what they know about the value of recalling and sharing events and people from your family's experience from "Everything Sad Is Untrue."
Daniel, the protagonist, is an Iranian refugee who lives with his mother and sister. As the only Persian student in his class, he is the brunt of jokes and the object of bullies, and he devises layers of tactics to avoid their violence. Readers could understand that bullying is a severe crime that everyone should stop.
The Talk: Conversations about Race, Love, And Truth 
In this inspiring call-to-action, thirty award-winning writers and illustrators welcome you into their homes to see the discussions and impact they have with their children about race in America today. Wade Hudson and Cheryl Willis Hudson edited the great book.
The conversation in the book seems to encourage young people to have open and honest discussions about race, identity, and self-esteem. The Talk is an inspiring series and must-have resource published in conjunction with Just Books, African American children's publishing company that has been in existence for over thirty years
The text and images in the book are full of compassion, acceptance, honesty, peace, and the promise that there is hope for a promising tomorrow. Readers will understand the importance of providing open conversation with loved ones due to the authors' encounters with systemic issues.
They Went Left
Monica Hesse writes with tenderness and wisdom about the lies we tell ourselves to live, as well as the ways we piece together family with what we have. A tale of resilience, grief, and rebirth that is both tragic and heartwarming.
The book will please a wide range of readers; those who enjoy historical fiction, romance, and mystery will not be able to put it down. Hesse demonstrates her mastery of realism once more, bringing the facts of life in the immediate postwar period to life in vivid detail.
In the pages of the superbly crafted book, Hesse's beautifully realized, highly empathetic protagonists come to life as well as real life; there is heartbreaking sorrow here and hope that life will be completely acceptable at the end.
Before The Ever After 
The stirring children's book by National Book Award winner Jacqueline Woodson examines how a family moves on after their glory days have ended and the cost of the professional sports on black bodies. The book delves into the boy's confusion and worry, and it may be beneficial to any child dealing with a family health crisis.
Before the Ever After, this verse novel is told by a 12 years old boy who sees his professional football player father's physical and mental deterioration due to Chronic Traumatic Encephalopathy (CTE), a degenerative disorder caused by frequent head hits.
In this elegiac reflection of loss and longing, told mainly in verse, a young boy tries to step forward with his life as his pro football star father's memory fades. This heartfelt portrait of a bereaved family serves as a model for overcoming adversity.
Conclusion:
As I have mentioned some children's books which might inspire and attract your kids towards studying habits, there are many other books which you could select for your kids. Rather than seeing kids being affected by social media, it is better to encourage them to read books. The essential thing is to make your kids love books more and set learning habits in them. Choose the right books wisely for your children and see the miracle.