When parents take their babies into bed to sleep, this is known as co-sleeping. Not every parent agrees with co-sleeping; sleeping with a baby is only for those parents who want to hold the baby and feel their gentle and pure touch and keep them safe at night. Babies are the most innocent and pure soul.
 Kids buzz about like bees during the day, eager to learn, play, and claim their freedom. They are also the innocent and purest form of the human stage. Once bedtime comes around, their sassy attitudes and constant desire for activity give away to soft sleepy snuggles and heavy-eyed affection.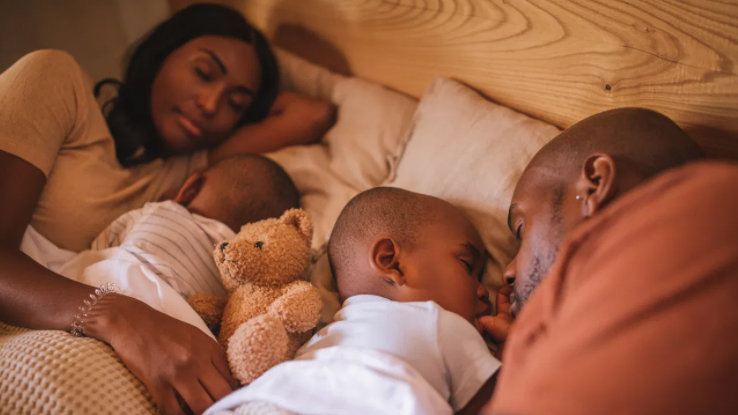 Co-sleeping comes up with its own set of benefits and drawbacks, as well as possible risks, so it is not a choice to be made lightly and preferably not in early morning.  Although c0-sleeping with babies keeps them safe, various dangers have also been reported, such as an infant's death due to uncomforting.
Benefits Of Co-Sleeping:
Co-sleeping may not be the rule in the United States, but it is a widespread and promoted custom in other parts of the world. The usefulness and physical togetherness of sharing a bed is valued in many cultures. This may not always be possible when you are a busy mom as parenting at this age needs some changes.
When you think about it, sleeping next to a loved one is normal and inevitable for most people. It is not about doing something alone or in private, and young children can crave the security of a parent's arm late at night.
Children need a lot of attention until they reach a certain level of understanding. They cannot take care of themselves especially, at night they might face problems like a face covered with a blanket, fall from bed and so on. Why take a risk? Co-sleeping has several other advantages:
The days may be endless, but the years are limited, and these precious cuddles are temporary. When your children grow older, they will assert their independence and demand more physical space. So if your children are in the toddler stage, you will make the most of this time by taking them to sleep with you.
Parents with irregular work schedules who cannot be present at all times can prefer to co-sleep with their children to spend more quality time with them. Co-sleeping, in either case, will help you bond more deeply and give your child a sense of safety and comfort.
You can also see your babies' eyelids tingle and see their chest rise and fall.  Kid and you may have a strong bond, love and affection for each other.  It includes singing lullabies, reading fairy tales or playing with them before bedtime. Sleep times could be the best time for you to bond with your baby.
Easy To Breastfeed The Babies:
Co-sleeping allows nursing parents to nurse their babies more quickly in the middle of the night or early in the morning. Since you are so close, you can keep the activity quiet and calm, cultivating a sense of restful relaxation. Co-sleeping can also allow mothers to breastfeed for more extended periods.
Although conventional bed-sharing with infants is not recommended, there are other innovative ways to encourage active nighttime nursing. A co-sleeper that stays up to the side of your bed or a conventional crib that keeps the baby healthy at arm's reach are two options for room sharing.
Some parents might be scared that they would hurt their baby if they take their baby to sleep with them. For those parents, you can place a baby crib or cot right next to your bed so that you could nurse them properly. Sleeping with the baby helps develop a healthy and strong bonding between parents and babies.
Stress At Bedtime Is Reduced:
Bedtime FOMO is the major problem for some toddlers (fear of missing out). They do not want to be lonely in their own space and isolated from their parents' nurturing presence. Toddlers want their parents to treat them well and give more attention to them, which is indeed a parent's responsibility.
You may have more ideas on how to spend your evening hours as an adult with little time on your hands. These might result in the battle of wills, and spoiler warning, your toddler, could win. Parents may sacrifice their time but giving time to your babies is worth everything.
Sleep deprivation can be frustrating, particularly in the middle of the night, and many parents would rather keep the peace than spend hours arguing with a bothering toddler. Bed-sharing will save time, resources, and effort when getting a small child to sleep.
Drawbacks To Co-sleeping With Babies:
While some parents consider co-sleeping to be a blessing, others see it as an unintentional habit rather than a conscious decision. When a toddler who used to sleep in their bed comes padding into your room at 1 a.m., you can become irritated. 
Such disturbances can obstruct anyone's ability to sleep, whether it is due to recurrent nightmares, sleep regression, or just plain old habit. Even if you want to co-sleep on purpose, it is essential to know that there are a few possible disadvantages.
Co-sleeping sounds cute and emotional, but along with some positive aspects, there are some drawbacks to it as well. Some of the potential dangers of taking your baby to sleep are discussed below:
Co-sleeping, as adorable as it can be, can be highly destructive. To summarize, though toddlers appear angelic in their sleep, their little limbs like to waggle about, and your sleep quality can suffer as a result of this dream dance. Parenting is not easy as expected.
Various surveys also show that mothers with baby co-sleepers had more night waking and less sleep than mothers who have babies that sleep alone. If you have ever watched a toddler perform sleep stunts, you know that sleeping through it is not easy.
Sleep is most important for everyone. Lack of sleep spoils the whole day. A mother has many tasks to complete; she may feel irritated, disturbed and inactive if she does not get proper rest at night. Hence, lack of sleep may lead to conflict.
Consequences Of Mental Health:
Poor sleep and happiness are mutually exclusive terms. Parents are often short of sleep and downtime; both mothers and fathers need mental and physical space to relax and refresh their bodies and minds before starting another busy day.
The moms who take their children to sleep may have high risks of mental consequences such as anxiety, stress, and depression. Proper sleep is a must for everyone, especially for moms. Moms could not do exercise or fitness work because they are too busy handling children, work and family. 
Sometimes, children become clingy, stubborn, and cry and make loud noises that may disturb mental health. Parents should be very aware when they sleep with children because many accidents covering the face with a blanket could happen. It is risky for children.
A Scarcity Of Child-Free Time:
Sharing a bed with your baby can restrict your ability to spend quality time with your partner on a one-on-one basis. After a long day, you may not be able to close the gap, have dinner together, or watch a movie together. Having a baby with you might affect your relationship with your partner.
Even if you are not concerned about how co-sleeping affects your relationship with your partner, you may want some time to relax and recover without feeling drained. There is nothing wrong with needing some alone times. Keeping your baby aside for a while and spending time with your partner is not selfish at all.
If and when you plan to share a bed with your baby, it is crucial to make sure you and your partner are on the same board. Your partner may have an objection to doing such, so you both have to discuss and make a decision together before keeping your baby to sleep with you.
Concerns About Social Stigma:
Parents are often forced to adapt to social standards and norms. Sleeping with a baby can seem to be the wrong decision, particularly by American Standards.  Likewise, there is a compulsion for parents to share their bed with their babies in Eastern countries.
Many parents worry that allowing children to sleep in their beds for all or part of the night would cause them to be judged or treated as failures, even though it is a choice they made gladly and happily. Social judgment may be difficult to handle for new or old parents.
People are often searching for ways to judge others, especially parents. Such judgments hamper parents and their children mentally. Do not listen to others and follow your instincts because a parent's instinct is always right. You better know what is suitable for your children than others.
Safety Precautions To Take Before Taking Your Baby To Sleep With You:
Parents should not consume alcohol and narcotics, including medications that impair sleep.

Remove pillows, sheets, other soft or rough bed sheets. These disturb a baby's breathing or cause overheating, all of which link to SIDS.

Do not sleep with your toddlers if you have any sleep disorders.

Restrict smoking in bed or the room you are sharing with a baby.

Avoid using an uncomfortable mattress. Use a king or queen-size mattress if possible.

If you are overweight, you should not share sleeping space with your infant, as this raises the likelihood of rolling over on the baby.
Conclusion:
Expert medical advice, scientific evidence, social norms, ease, parenting style, practical factors and personal preference can all play a role in determining how and where your baby sleeps. These considerations are genuine and can be used to develop a proper sleep routine for your family. Taking safety precautions, you will sleep soundly in any sleep arrangements.