Chromebooks simply are laptops that use Chrome OS as an operating system based on Linux. Chromebooks use the Google Chrome browser to execute a range of functions and store software and files in the cloud rather than on the desktop. This blog will teach you the way to set up parental control on a Chromebook for your kids.
It is a new type of computer or laptop that is designed to help you complete your work much faster in an efficient and effective way. You can continue using the offline-ready application even though you are not connected to the internet.
Why use a Chromebook?
Chromebooks are designed to run a light weighted operating system compared to Windows and Mac OS which is designed to support you with certain productivity activities. You can use a Chromebook without an internet connection. Chromebooks are inexpensive and provide the best quality and high display features. This could be a good thing parents ask children to use and can be a secret in digital parenting. 
The major breakthrough introduced to the market by the Chromebook was the replacement of the traditional, multiple function PC operating systems that did everything from booting to sorting papers, running programs and watching DVDs. Kids play numerous games online about which parents are unaware like Apex Legends. 
Is Chromebook suitable for kids?
Chromebooks are inexpensive and are extremely well for elementary school level as they are small enough to fit in the backpack of the children but still are high enough to get a full keyboard. If you wish to know what your kids typed from their keyboards by installing keyloggers. Uploads are made in the cloud so even if you misplace Chromebook there is no need to worry about your files.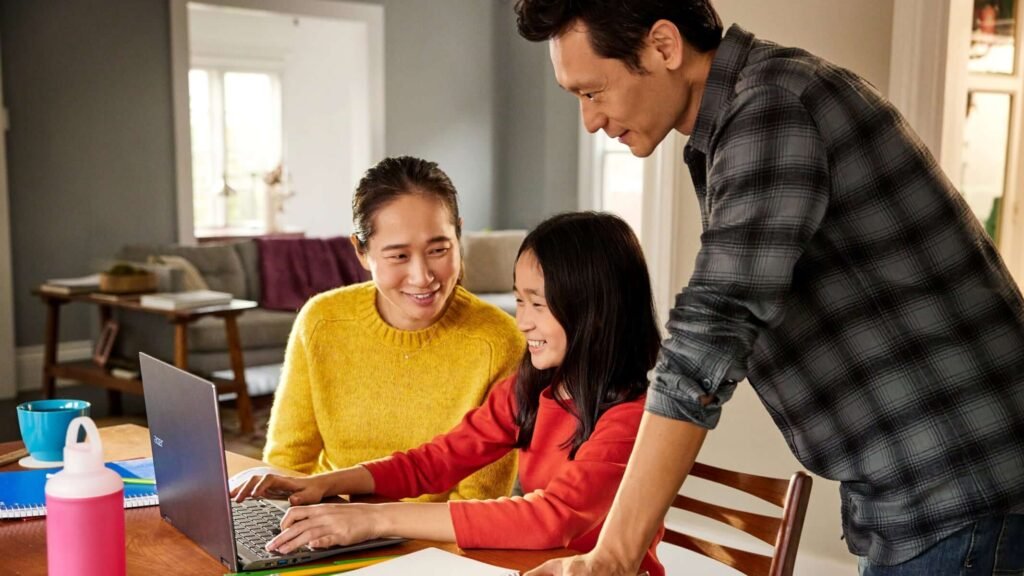 In Chromebook, it has parental controls which ensure that they play it safe online and in the apps store, so no worry about that. Chromebook is definitely something that you as a parent can give to your children to engage them in learning new things and getting innovative from the internet. If you are concerned about your kids watching unwanted content online like porn that requires blocking. 
Before buying your kid a Chromebook, as a parent you need to know these things:
Chromebooks are secured for kids to use them. When it comes to Chrome OS it is the safest one as there are inbuilt security layers that ensure that tasks are being completed without any barriers or issues.

Chromebooks bring up new updates every single time, keep track of bugs and make Chromebook safe as can be. Everything that is stored in the cloud is encrypted and is secured.

You can easily install and uninstall different android apps through the google play store on Chromebook. You can get easy access to every androids application and can use it without any issues.

Student-friendly Chromebook comes under $400 which is easy to buy, where you can get high quality with great features. You can get many options to choose from for your kids to use.

You can also sync your Chromebook with your android phones and can use both at the same time together.
Setting up Chromebook for your kids
As a parent or guardians, we want our children to work in a secure space and should be effective. With modern technology, parents need to stay updated for being modern parents of the present day. For setting up your Chromebook you need to follow these steps:
Step 1: Turn on the Chromebook
First of all turn on the Chromebook by pressing the power button.
Step 2: Follow the directions on the onscreen
On the screen, it appears to select the language from which you need to choose your language and keyword set.

Optional: Pick Accessibility to turn on the accessibility features.

Have you selected your network?

Accept the Service Terms.
Step 3: Use your Google  account for signing in
For selecting your Chrome owner you have to log in to your Google account with an email or phone number along with the password.
If you have allowed 2-Step Verification already,  a code will be sent to your selected computer.

It is necessary to have a Google account, now You can select More Options on some Chromebooks, then make a new account.

Select Search as a Guest to use your Chromebook without an account.

If there is any problem with your Google account then there is a sign-in troubleshooter for you to help in signing.

Once you successfully sign in to your account then extensions, bookmarks and applications tend to appear.
Chromebook parental control features and how to set up for kids
Chromebook has parental control features that will give a parent access to certain features like:

Can restrict or block access to different apps from Google play store and Chrome Web Store.

Manage the websites that kids can access on Chrome.

Because of family link, the Chrome browser attempts to block violent and sexually explicit content or sites

from kids.

And can set the time limits, which will automatically shut down after setting times like bedtime, device lock.
Set up Chromebook parental control
To set up an account for your child, first, download and use the Google Family Connection app on your phone.

Go through the setup process, if it is a new Chromebook, and sign in with your (parent) account. This is critical since the first account used to sign in becomes the account of the owner and has access to particular privileges. When the Chromebook is already active, skip to the next stage.

Now, link the account for your child to the Chromebook.
Is a Chromebook worth buying for kids?
Chromebook is great for academics where students can use it for taking notes, report making from Google docs, analysis and research from the internet, and downloading files without hesitation for storage capacity or any file crash or theft because it is stored securely in the Cloud.
Well, they're fun! Chromebook gives kids a new interesting way of learning different things, where they can explore and use their creative skills and keep themselves entertained.