Parenting is one of the toughest jobs one could ever have and not to forget it's a never-ending job even when your kids become adults. But, handling adults can be quite easy in comparison to handling infants. Infants need special care and taking care of them is a bit hectic. 
For positive parenting, you should talk, read and answer to your baby repeating their babbling sound. Moms should play with toys with them, sing and make sure you give loving attention. With this parenting behavior, your kids will feel being safe and loved. 
Scheduling a care routine for five months old is not an easy task. During this period, a child changes a lot and develops many habits. They at any moment remain calm and playful, and the other moment starts to cry, laugh, and gurgle.  It is hard to notice what they want and what they are going through.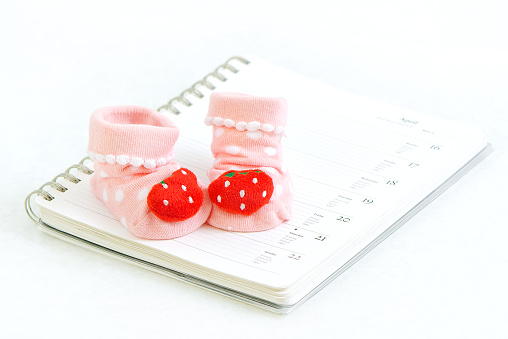 Routine for 5 month old baby is limited to three basic things starting from early morning to late night. Three activities for the daily schedule are eating, sleeping, and playing. Even though it looks like they only perform three activities, you need to maintain a proper schedule to balance these activities.   
Though babies are predictable on what they need and want, setting a schedule helps parents make things work as needed.
Some of the primary things that are most crucial and mandatory to include in the schedule are.
A baby needs proper nursing.

Mothers should be by their side almost every hour.

Kids prefer toys for it is the age for them to have fun by playing.

The right consistency of liquidity foods is preferred at right time.

The proper time for sleeping and eating for the healthy growth and development of a baby at this age.

The bathing time for the baby should take place in suitable weather conditions.

Parents should set time for changing diapers. 
A suitable timetable for 5 Month Old
| | |
| --- | --- |
| Time | Activities |
| 7:00 am | Wake them up |
| 7:30 am | Feed them  |
| 9:00 am to 10:00 am | Naptime |
| 10: 00 am: | Feed them |
| 11: 00 am: | Playtime |
| 12:00 to 1:30pm | Naptime |
| 1.30 pm | Feed them |
| 2:00 pm | Time for a bath |
| 2:30 pm | 3rd Naptime |
| 3:30 pm | Wake them up and feed |
| 4:30 pm | Playtime |
| 7:00 pm | Feed them and nap time |
A rigid nap schedule, playtime, and feed time will make a complete routine for a 5 month old baby. Babies grow the most when they are sleeping, this is also one of the reasons for them to sleep almost 14 to 16 hours a day. After waking up from 2 to 3 hours of naps, your babies might feel hungry. Therefore, you should feed them after they wake up. 
It is not necessary to make a baby bath every day, three times per week is considered enough. Bathing time for them at 2:00 pm is an appropriate time. 
1. Sleep Schedule for 5 Month Old
A baby at five months needs the most prolonged hours of sleep times of 14 to 16 hours. Childs sleep the longest at day time, nap schedule in day time ranges to 3 hours. Make the nap schedule maximized to 3 times a day. It is better for keeping the baby at her back while they are sleeping.
Sleep training is perfect at this age so you can use a crib to make them sleep on their own. Make sure they are not disturbed by the noisy sound while they are sleeping. Especially when traveling by car or bus, avoid motion and sound as free sleep times is necessary for them.
Sleep schedules at nighttime should be proper as it is the longest hours a baby takes a nap. During this time, let the baby have healthy sleep habits on their own. Feed them in dim light at late feeding time. Keep them on the crib with musical toys around. With the dim light and music playing in the crib, they slowly start to feel drowsy and fall asleep within a few minutes.
Babies might get sleep regression during the night and often wake up during the daytime too.
Five months is also a better time for a baby to differentiate daylight and night light. Daylight usually signifies a time for play while the nighttime for sleep. So, you as a mother should avoid bright light in the evening to let the baby fall asleep soundly. For no proper sleep, parents can visit a sleep consultant and set the baby's sleep schedule as doctors advise for healthy sleep habits.
2. Play Schedule for 5 Month Old
A baby in five months starts to communicate, learns to analyze objects near to them. To make learning activities effective, always keep the baby engaged with simple activities. The activities include talking, reading to them, or musical sounds from the toys.
During playtime, never leave a baby alone. Parents are responsible for being at the side of their babies whenever they play with toys. Some friendly activities like reading, talking to them, singing for them will let kids feel secure in a loving environment.  
When having a conversation with a baby, figure out their expressions and eyes. Baby learns the language at the age of five months and sees how they communicate. You can examine how your baby feels through eyes and facial expressions.
Plastic mirrors, music and light toys, soft stuffed and rattle toys, etcetera are some of the best suitable toys for babies at this age.
Playing with toys helps them to,
Keep them entertained.

Toys stimulate their body and senses.

Colorful rattle toys make their visual sense strong. 

Sensorial senses are activated with soft toys.

Musical toys are better to enhance sound intelligence and, at the same time, make them creative. 

The way they hold, grasp, and play with toys increases their strength to analyze objects. 
3. Eat Schedule For 5 Month Old
A schedule is incomplete with no organized eating time for kids. So along with the most extended hours of sleep, you should feed your kids every 2-3 hours. Kids eat five to six times a day. Feeding makes them energetic and remains playful in the daytime.
The safest source of nutrition for a baby is milk. Either breast milk or formula milk is good for the body. Babies get the required amount of water content in the body from milk.
The amount of milk baby drinks ranges from 6 to 8 ounces per feeding and 4 to 6 times for a day. 
Five month old baby is not just bound to milk, apart from milk feedings, you can start solid food.  Starting solids for your baby keeps them nourished by giving them vegetables that are soft including, green beans, sweet potatoes, and carrots.
Give your baby cereal, mashed vegetables, and fruits as the baby diet. Grain oat, brown rice, and grain as a baby cereal can be considered.
Avocados, peaches, bananas are some of the fruits to be fed to the baby. Parents should be aware of the impact of new foods on their babies. For example, some babies might get allergies from vegetables or cereal types. In case of adverse reactions made by food on the body, treatment is necessary. 
4. Bath Schedule For Your Kid
Five months old, babies need to bathe 2 to 3 times a week. Sunny weather favors bathing time. Avoid rainy and cloudy seasons if possible so that babies do not fall sick and catch a cold. Extra precaution is needed during the rainy and winter season.
Five month old babies love to play with water and enjoy splashing in the water. So mothers making them play with water can make their baths more frequent.
Babies love water, so the splashing sound of water, waves, and bubbles, water sprinkles give sensory of wetness for kids.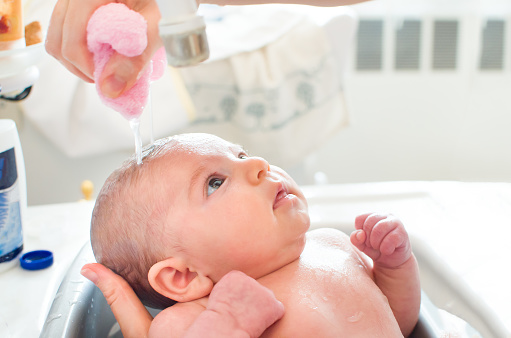 The bathing routine also consists of cleaning the body with wet baby wipes. While changing the dress or diapers, clean the baby's body to keep them neat with no issues for rashes. While bathing, use baby soap that does not dry the body.
After a bath or wiping the body, make sure the body of the baby is moisturized. Then, apply body lotion all over the body and give them a proper massage to make them feel relaxed.
5. Changing Schedule
Changing diapers is another frequent task parents do, along with feeding and making them play. Usually, your baby needs 8 to 10 diapers a day. It will be easier to change frequently before feeding them so that you get time to work on your stuff instead of checking diapers repeatedly. 
While changing a diaper, ensure you,
Wash your hand

Make them lay down

Keep trash aside

Clean baby with wipes or using warm water and a soft cotton cloth

Better apply ointments to avoid rashes before closing new diapers. 
Conclusion
Following an absolute routine for a baby of 5 months sounds simple yet complicated. Primarily, babies in this age eat, sleep, and play. But parents should carefully keep an eye on these activities periodically. So setting a routine or a schedule for a 5 month old baby can be very helpful.
As newborn care parents should feed babies with proper diet and nutrition. In case of allergies or rashes with foods, take kids for medication.
Parents should make their babies sleep at least 14 hours a day and notice sleep regression. Be playful with them. In addition to this, you should be extra careful while bathing your baby and changing diapers.