When our kids are toddlers, we babyproof the home so they don't get into trouble. We babyproof the cabinet doors, drawers, and even toilets. As they grow up, we realize that we also have to childproof our home internet as equally dangerous.
The internet is filled with inappropriate websites and content. They can prove to be extremely risky, especially for children when they play online games like Fortnite where kids encounter new people. Whether it be spending hours on the internet to befriend a stranger, it can be harmful to let your child use the internet without parental supervision. 
It is also hard for parents to completely block access to the internet from their child's life. The internet can provide a multitude of benefits to children. They can use it to communicate with their grandparents and best friends, watch their favorite cartoons, and even learn new things.
But how can we stop them from getting involved in something dangerous? How do we do this without blocking access to the internet? We have got it covered.
We have made a list of measures that you can take to childproof your home internet. This parents guide contains everything you can do to childproof your devices from your TV, laptop, cell phones to their favorite streaming platforms. It is essential for you to identify online threads for your child so they watch proper content online.
Ways to Childproof your Home Internet | For Laptop and Cell Phones
Most kids love using cell phones. They use it to play games, talk to their friends and escape boredom. It is also the perfect device to keep them occupied. But the problem arises when they come across something that may prove to be traumatizing.
Statistics suggest that about 4% of the internet is filled with pornographic content, not provocative advertisements. Teenagers often click on these clickbait advertisements or search for pornography due to natural curiosity.
It is believed that almost 40 million people in the US watch porn regularly online. Among this, 57% of the viewers are below the age of 18. The national survey also showed that 35% of all the downloads in the country from the internet are related to porn. The alluring advertisement on most sites is click-baits which result in downloads of malware or spyware.
It goes to show how accessible porn has been made for teenagers and children to access. But there are many downsides of watching pornography, including porn addiction, unrealistic expectations, and many more.
Besides watching pornography, using the internet for other purposes for an extended amount of time can also be harmful. Problems like social media addiction and digital addiction have also surfaced nowadays in teenagers. The education also require kids to learn online for which parents need to be much careful about kids safety during remote learning.
So parents are looking for alternatives to make the use of laptops and cell phones safer for children. Hence, we have come up with ways to childproof the internet on laptops and cell phones.
Parental control apps
Parental control applications are software that helps in controlling the usage and accessibility of digital devices. They are applications that help in monitoring the devices of children and what applications they make use of . There are some chatting applications like Discord, about which parents should know certain things. 
Parental control software is a non-intrusive method of monitoring your child's internet activities. These applications aid parents in taking back control of the devices of the child.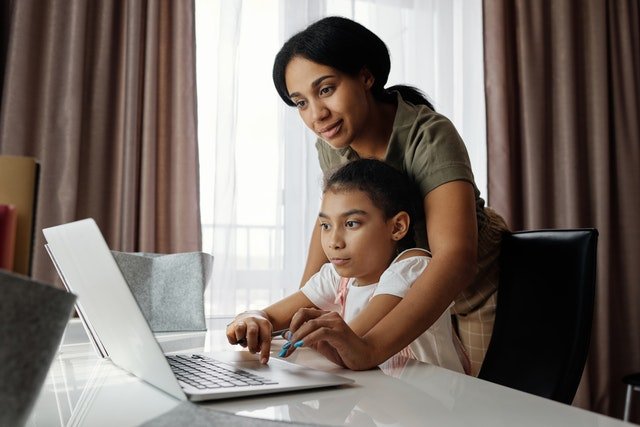 These applications can also be a safe way to monitor your child from a distance. They can also be a great conversation starter with your child on internet safety. 
Some Android devices facilitate internet parental controls to limit the screen time of children. They are built-in within the device's system and allow parents to set a screen timer for each application. When the time limit finishes, the application is blocked only to be used the next day.
For example, you can set a restriction code on iOS if your kid has an iPhone; with that, you can block adult content, or, depending on the age of the child, you might want to set up the device settings so that your child can only access seven or so particular sites.
You could even block Google or Safari to restrict a five-year-old's access to just their play sites. It is all fairly easy to do, whether it's for iOS, Android, or Windows—which is evident by the number of simple online tutorials that exist for every option. 
But built-in parental controls are not available on all devices. And in devices where they are available, they are not sufficient. So, there are third-party parental control applications that are available in the market. These applications have a range of functions, from monitoring social media to limiting screen time.
It also helps to have at least two layers of protection when it comes to childproofing the internet. So even if you have activated built-in parental controls on their mobile devices or browser, it is wise to use additional parental control apps to keep proper balance digitally.
Features of parental control apps
Here are some features that you have to look for when searching for parental control applications. A parental control application incorporating most or all of these features will be perfect for your children.
Note: Also, consider the cost and benefit of the application when choosing the right one for your family.
Block inappropriate content: You can block specific URLs and websites to block inappropriate content.

Set limitation on screen time: You can set a time limit on specific applications or the entire device.

Blocking applications after screen time limit runs out

Monitor screen time activities: You can also monitor how much time they spent on which applications and used which applications as a whole.

Web filter: You will be able to filter out advertisements and other problematic sites from their browser.

Restrict the use of risky apps: They will not be able to download or use applications that you have restricted.

Social media monitoring: Monitor their social media activities, including messages, posts, and timelines.

Monitoring web browser

Monitoring web browser history
Popular Parental Control apps
Fenced.ai is one of the best parental control applications. It provides a wide range of features in its software for both paid and free versions of the application.
It helps you keep an eye on the kids and makes you able to keep an eye on me remotely. Fenced.ai has a range of features monitoring calls and texts, web browsers, social media, location, and screen time.
They also help in keeping an eye on the browser history and application usage. This app helps you monitor social media, including Facebook, Instagram, Whatsapp, Snapchat, and much more remotely.
Bark.us is another popular parental control app. This application allows parents to monitor their children through the use of the Bark dashboard. It proactively helps you in monitoring your child in a non-intrusive manner.
Bark.us is one of the best monitoring tools in terms of monitoring social media applications. They have a wide variety of social media applications that the parental control app promises to help you monitor.
Besides social media monitoring, bark also provides web filtering and screen time management services. It allows parents to stay on top of what their child is doing. Additionally, they also provide alerts on suspicious activities. 
NetNanny is another trusted parental control application. It helps parents by protecting their children through monitoring and limiting their activities on their mobile devices.
NetNanny provides the features of internet filtering as well as blocking unwanted sites or applications. You can also use this parental control app to set time limits when they can or cannot be online. It will help you set a fixed study and sleep time for your child.
You can also block certain applications on your child's mobile devices. This application can be used on both laptops as well on cell phones. So you can block out pornography or other inappropriate sites or content from their web browser.
Install antivirus software
Malware and spyware are the most prevalent virus software that is likely to infect your devices. The likelihood of having a virus on your laptop or mobile phone depends on which sites you visit and what you download from them.
Malware and spyware can prove to be extremely problematic for your device. Malware generally causes your device to slow down. It causes an interruption in the regular functioning of your device. Your files will be multiplied or deleted by the system itself, causing many issues.
Spyware, on the other hand, is malicious software that causes people or advertisers to monitor your activities. They can steal your information and use it for fraudulent activities. They can use it for theft, such as identity theft and many more.
Hence it is recommended for parents to install antivirus software on their devices. As children do not have a general understanding of safe sources of downloading files, they might cause your device to be infected.
Therefore, we suggest parents install and use antivirus software to childproof their home internet.
Popular Antivirus Software
Some of the most popular and reliable antivirus software that we suggest to parents are listed below:
Norton Antivirus is software available to protect your device against malware, spyware, adware, and other malicious attacks. They are available for PC, Mac, iOS, and Android devices.
This antivirus program helps you by scanning and removing malware files that have entered your devices. Unlike other antivirus services, Norton provides a technology that uses machine learning to determine whether the file is good or bad.
Norton helps protect your devices with its emulation feature, where they run each file through a virtual machine to discover threats. Norton also prevents intrusion by analyzing your downloads and blocking potential threats before downloading on your computer.
They also help in removing programs that are potential threats to your device. This software removes files or applications that are problematic or may contain malware.
Kaspersky is another popular name in the antivirus software market. This antivirus protects your laptops from spam, malware, spyware, and trojan viruses. They provide real-time antivirus protection for your devices.
Kaspersky Anti-Virus helps in blocking ransomware and crypto lockers. They help in scanning files that have been saved or opened on your computer. It also helps in scanning and preventing online downloads that may be malicious or potentially risky.
They have additional features of creating reports and reporting them to the user about the status of their device. Kaspersky Anti-Virus also provides alerts on malicious activities that are taking place on your device.For Netflix and Prime Video
Streaming services have brought a lot of ease for everyone. Whether it be parents enjoying movies and series with ease on their TV or children watching their favorite cartoon or TV shows. Streaming sites are available for access on all devices such as a tablet, computer, or television.
Netflix and Amazon Prime are the most popular among these streaming platforms. Family members use Netflix and Amazon Prime all the time. With family accounts, parents and children can access their accounts on Netflix. They are convenient and entertaining.
But what concern many parents have is the easy access to mature content on these sites. Many studies have concluded that these services are unsafe for children. 65% of the content has been rated for Mature Audiences (MA) while the other 8% requires Parental Guidance (PG).
So how can we prevent our children from coming across adult content on Netflix and Amazon Prime? We have listed some suggestions that might prove to be helpful for parents.
Netflix Parental Controls
Netflix has built-in internet parental controls that help parents choose specific movies or TV shows. For this, you have to create and manage their profile. 
Parents can also create profiles that have a specific maturity rating. You can change the setting according to the age of your child. This means you have different settings for you, your teenagers, and your child.
Here is how to put a specific maturity rating on your child's Netflix profile:
Open Netflix from your computer web browser

Go to your Manage Profiles page.

Select Add Profile. 

Name the profile. To use the Netflix Kids experience, select Kids.

Kids profiles have a logo on the profile icon, so they are easy to identify.

Select Continue. The new profile will show on the list of profiles on your account.
Prime Video- Parental Controls
Prime Video also allows restrictions on their platform. They will allow parents to limit the playback of content on Prime Video devices.
You can set up the restrictions on Prime Video by taking the following steps:
On a PC or Mac, go to Account & Settings, then select Parental Controls.

Select an age restriction and the Devices you want them to apply to, then click Save.