Birthdays are always fun for everyone, whether they are kids, adults, or aged people. It is a day of an individual filled with joy, happiness, and loved ones to glorify the moment. But the first birthday party is for the parents, families and the memories: so you might want some ideas.
Every parent eagerly waits for their baby's first birthday. Though babies at this age are unknown about birthdays, fun, and celebration, the day is special for parents more than for a little one. Little planning for a birthday party beforehand is always helpful.
Your baby hit the mark of 1 year, and YAY, it's time for a party. The birthday is for your little ones, but they won't be able to appreciate all the birthday surprises. Though the celebration is for parents, make sure the party is baby-friendly, simple, and sweet.
Decorate your house with beautiful colorful objects, balloons, and pictures on the wall. It's better to invite more children to the birthday party as your baby tends to attract more towards kids rather than adults. Parents, with proper birthday planning and celebration, you will succeed in preserving delightful moments for your kiddo in the coming years. 
First Unique Birthday Party Ideas
Keep things short and straightforward while celebrating your kiddo's first birthday being gender-neutral. It is better to stick at home or throw a garden party and invite family and friends to your baby's big day. To reduce parents' stress, I have pointed out a few of the best first birthday party ideas.
1. Birthday Party with Invitation
Invite people to the birthday party. First, make a guest list and invite them one-on-one via calls, messages, WhatsApp, or face-to-face. Keep the numbers of people limited and within the circle of family and friends.
Limits and specific guests are essential for the first birthday so that everyone gets equal attention and there won't be any upsetting risks. Invite grandparents, relatives, cousins, and your baby's friends for the birthday. 
You should be very careful while inviting people and ensure they are happy around the baby and won't get upset with the party theme, food patterns, and no drinks at the party.
2. Birthday Party with Decoration
A first birthday party is a call for a celebration and decoration. Babies are unknown about what a birthday is and why there is a birthday party. All they love are colorful objects covering the home and the people they are surrounded with. The decoration of the baby's birthday should be bright and colorful to attract and make them joyful. 
Mom and dad, decorate your wall with balloons, paintings with a baby's party theme, and paper chains. Add cute little pictures of your baby as a warm welcome gift for their lovely presence in your life.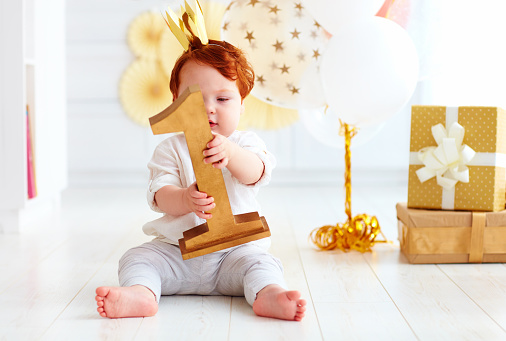 The first friends for almost every baby are cartoon characters. So, it is better if your wall is pictured with cartoon characters. Wild animals and pets babies are fond of also work well to decorate your place. 
At the age of 1, a baby mostly crawls and sits on the ground. Bring additional ball toys for your kids. Place chairs around for you and adults to sit so that you can see your baby and other kids playing around. Your presence during playtime is crucial for babies who love to be around people. 
On the one hand, playing with toys makes little boys and girls engaging and, on the other hand, develops their motor skills and visual sensing power. Catching, throwing, and rolling ball toys give babies proper exercise for their muscles, and colorful toys enhance the visual system.  
3. Birthday Party with Food and Drinks
Meal planning for the first birthday might be complicated for parents as they need to make the event both baby-friendly and adult-friendly. No party is complete without food and drinks, and there is an excellent opportunity to impress guests with some good foods and treats.
When it comes to the food for the little ones, the best options are soft food that is best for them to eat and has no choking hazards. I suggest you organize a buffet system to help your guests during the party.
Have some fun with your kids and party with good food and drinks. The preferred way for attracting kids to food is by using cookie cutters. Babies love eating foods that are presented in fun and suitable-looking shapes and sizes. You can include biscuits, pizzas, and sandwiches on your birthday, and all of these foods to be prepared using a cookie cutter. 
Your kid won't have a complete set of teeth in a year; therefore, cook soft foods for the baby to eat. Pudding, pie fruits like bananas and apples sound suitable for the birthday. 
Babies might choke while eating chunks of fruits, and during the day, you are primarily busy handling guests and their food choice as well. Accordingly, it's nice to serve fruits with baby-friendly cuts.
The best option for the sweet treat is smoothies to drink, fun jellies, or ice cream. These are the best three combos that go well together. These foods are super soft, easier to eat, and tasty for your little kiddo. Finally, wrap up the party serving sweet desert.
4. Birthday Party with Birthday Cake
A birthday is incomplete without a birthday cake. A birthday cake for your baby on their very first birthday will capture a lot of memories. Your baby probably ends up getting more cakes in their dress and floor, and nothing is more pleasing to watch than a baby playing with cakes all over their clothes. 
Older guests will likely enjoy the cake more than your child, but it's always good to have a show-stopper that no one will forget.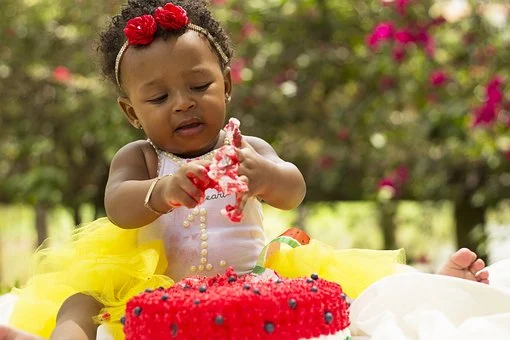 You have tons of options selecting the best designed and themed birthday cakes based on either small or grand celebrations. Whether you prepare the cake yourself, hire a professional, or buy one from the supermarket is totally up to you. But whatever you decide, there are lots of ways to make your baby's first birthday memorable.
Double-check if the cake you use for your baby's birthday is free of oil, sugar, and heavy dairy products. A cake filled with fruits appears to be more healthy. I have listed a few cake ideas for your kiddo's 1st birthday.
Carrot and Date cake with no added refined sugar will be a better option for birthday cake. The ingredients used to bake a cake are good for you, including shredded coconut, raisins, and dates.
Coconut and Raspberry Cake
The best way to replace cakes with refined sugar is by cutting coconut and raspberry cake on birthdays. The cake is healthy and is free of dairy products and gluten. The icy frosting with whipped cream with the flavor of vanilla and coconut adds makes the cake savory. 
Honey Oat Cake with Yogurt
Moms, you can bake your version of Honey Oat Cake to make the birthday cake nutritious. Make a frost using sugar-free yogurt, and you can use berries, ice cream, and chocolate chips as a topping. 
Pineapple and Banana Combo Cake
Semi-sweet cake for your little ones is Pineapple and Banana Combo Cake. The cake is baked using crushed pineapple and mashed bananas. Maple syrup with cream cheese frosting will make a wonderfully delicious and healthy cake. 
Cinnamon-Spiced Smash Cake
Cinnamon-Spiced Smash Cake is baked using wheat flour. To add flavor to the cake, smashed ripe bananas and maple syrup is used. Whipping cream and decoration with frozen blueberries makes perfect frosting and toppings. Plus, the cake is butter-free and sugar-free. 
5. Birthday Party Theme with Balloons
A birthday celebration with no balloons is dull. Balloons are the most important part of birthdays, and there are no kids who dislike balloons. Make sure the room for the birthday celebration is decorated with colorful balloons.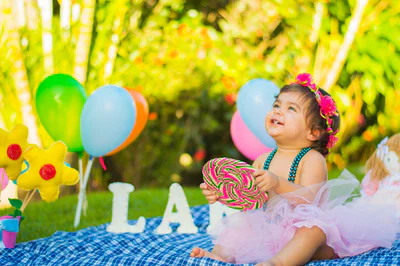 You can either use simple plastic balloons for decoration or go through foil balloons. The best thing about foil balloons is you can customize the balloons as you want. You can paint and write a baby name and short messages on balloons. Foil balloons can be restored as a collection of memories for your baby.
Along with balloons making an inviting atmosphere, balloons make the party photo finish. Make your babies pose with balloons with the baby's name and capture pictures for all the guests. You need to be extra careful selecting balloon themes for the balloons engaging for little boys and girls, and adults. 
6. Birthday Party Theme with a Costume
There are many popular kid's party themes available, with decorations to fit almost every taste. Superheroes, princesses, pirates, and dinosaurs are all possible theme ideas for the birthday party.
Or, you could opt for a colorful themed birthday, like bright and sparkly or spots and stripes.
If you want to encourage younger guests to dress up for a birthday celebration, pick something simple. More complex themes might make it more stressful for others to get involved.
Conclusion
Parents with no hustle and stress, you can throw a magnificent birthday party for your baby in their 1st year. I have highlighted a few helpful birthday kid's party ideas, tips, and tricks that you can keep in mind while organizing a birthday party. 
Enjoy your day!