Babies learn things and develop from their surrounding objects. Especially age-appropriate toys for kids are essential. For example, ball toys for babies help to develop motor skills.
Child Development Experts have found toys to be helpful for toddlers. Toddler toys are perceived as playful thing that keeps toddlers engaged and fun. They are not just objects thrown or kicked away, but such activities improve motor skills among toddlers.
Parents, while buying ball toys for babies, make sure they are kids-friendly. With proper ball toys, your toddler will properly master foundational skills helpful for them in their entire life. 
Some of the developmental benefits of ball toddler toys are:
Grasping Skills
Hand-eye Coordination
Language Skills
Motor Skills
Problem-solving Skills
Social-emotional Skills
Having a Ball for Toddlers
Ball toys for babies are fun material as well as an efficient way to develop bodily skills. I suggest lightweight balls for babies. After taking a quick view of your baby playing, it seems the toys are used for kicking, throwing, or rolling. 
However, such activities support toddlers for the overall development of their body and foundational skills.
While playing with ball toys, your kids will be more curious. They try to catch the ball, be curious about how far they can roll or how hard they can hit. As a result, they develop critical thinking power.
How do Ball Toys work for Toddlers?
Ball toys are classic toys that are best suited for toddlers for development opportunities and fun. Mothers, do you want to know why ball toys are suitable for your kids? Then, you should probably go through these points listed below.
Throwing soccer balls back and forth gives toddlers an idea about cause and effect.

Bright colors of toys improve visual sense.

Holding, playing, and grasping a sensory ball helps in muscles' movement, which improves motor skills.

The use of tennis balls teaches toddlers to throw balls with one hand. 

A colorful ball pit also aids them in differentiating vibrant colors from an early age. 

Musical toys enrich hearing sense and sound intelligence.

Characteristics of ball toys as throwing back and forth also develops social skills. Kids get the idea of sharing things and turn-taking.
Mothers, there are excellent measures to nurture your toddlers with the use of ball toys. Make sure you buy some of these toddler toys to master their growth and development to perfection.
Top 8 Best Ball Toys For Toddlers
1. Roller-pillar Ball Toy for Toddlers
The roller-pillar ball toy has a unique working mechanism. These kinds of balls make toddlers identify colors from an early age and define objects inside the ball.
Kids playing with roller-pillar toys notice and study the objects inside the ball. Likewise, objects inside the toy-like stars, fishes, frogs or cartoon characters help them to learn about those objects. 
The use of a variety of objects with different shapes in roller-pillar balls improves hand-eye coordination. Further, toddlers will learn about colors as well. 
2. Soft Grab and Hide Ball for Toddlers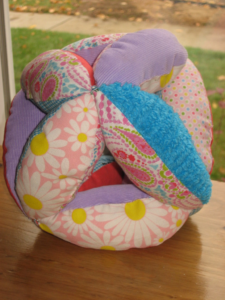 The grab and hide ball comes with varying bright colors and textures. They are easy to hold and also produce sound. The sound generated from the ball helps toddlers to crawl and go after the toy. 
Grab and hide the ball for boys and girls gives a sensory play experience.  The system of pulling a string and a character hiding inside the ball gives them an experience playing hide and seek. 
Rattling sound and hide-and-seek effects of grab and hide ball introduces cause and effect method for kids. It is so because whenever kids shake to pull a string, one element of the ball hides forming different ball sections. 
3. Infantino Multi-ball Set for Toddlers
This set of ball pits is helpful and has an entertaining way to develop a toddler's dexterity, motor skills, and tactile senses. The use of different bright colors in the toys visually attracts kids. Your kids will explore different patterns, colors, and textures while playing. 
The most common habit of babies is to keep everything in their mouths. They are used to sucking activity for sucking reflex during infancy is common. 
These kinds of balls for babies are perfect and safe too. Keeping the ball in the mouth is not as harmful as BPA-free (Bisphenol A, harmful for the human body). 
4. Lemostaar Textured Multi-ball Set for Toddlers
You need to buy your baby sensory ball named Lemosttar textured multi-ball for tactical sensory stimulation. Those toys help them to acknowledge the temperature, touch, and texture of the ball.
The ball consists of six colorful balls with varying textures.  It is perfect for tactile stimulation. The durability, softness, and lightweight consistency of the ball favor toddlers. Mothers, you do not need to worry about child sucking balls, for they are made up of non-toxic materials. 
In a way, as they are one of the great ball toys for toddlers, they are also a great stress reliever for the parents as they are most often used in therapy sessions.
5. Cele Moon Foam T-Ball Set for Toddlers 
Moms, another lightweight and soft toy you can prefer to buy for your toddler is Cele Moon Foam T-Ball Set. The toy is safe for your baby, and they won't get hurt while playing, and you do not need to worry about the child's hygiene.
Toddlers, at an early age, learn about hold and swing mechanisms from Cele Moonball. They will be addressed about basic rules of baseball in adulthood while playing with T-Ball sets.
This set of toys for kids give them entertainment, and it also promotes different skills and senses. The soft foamy material of the toys makes the toy washable. It also includes a compact carry bag, so you don't have to worry about the mini play balls getting misplaced.
6. VTech Wiggle And Crawl Ball
VTech Wiggle And Crawl ball toys are one of the most entertaining toys for kids. This set of toys includes many tiny animals attached to its outermost cover, making different sounds when pressed. 
VTech Wiggle And Crawl ball feature many melodies, songs, and cheerful phrases that help toddlers develop their speaking skills while they are in their babbling stage. The ball rolls, which encourages the toddler to crawl. Thus, it helps the toddler during their crawl stage. 
Moms, apart from crawling, babbling, and developing speaking skills, wiggle and crawl ball also provides sensory stimulation and promotes language development.
7. Playkidz Pound and Tap Bench for Toddlers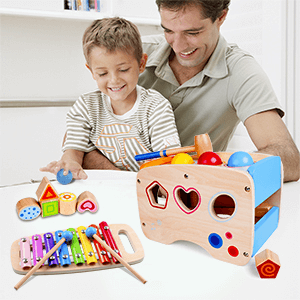 Playkidz pound and tap bench is another best ball toy for toddlers. It consists of six pieces made of the hammer, mini play balls on the count of three, a xylophone, and a stand. It is designed safely for kids with safe-metal, woods, and paints. There are several features of these classic toys.
Your toddlers show progress in motor skills if they play with a pound and tap bench. Wherever babies knock the ball with a hammer, it hits the xylophone, and they hear a piece of music. Kids will recognize musical sounds and notes from musical toys, which encourages audio recognition.
In addition, there will be a better use of arm movement, proper eye coordination, and develops skills in performing tasks with hands.  
8. Sassy Developmental Bumpy Ball for Toddlers 
A sassy developmental bumpy ball is an ideal toy for a toddler. The ball toy is featured with many chunky bumps that come in contrasting bright colors and patterns.
Mothers, sassy developmental bumpy balls encourage your toddler to play ball and grasp the ball with curiosity. It benefits in developing sound hearing while maintaining a natural connection as it has two different rattle bumps. In addition, it has enhanced features that help to develop crawling skills.
Conclusion
One of the best ways to support the growth and development of toddlers is through toys. Toys keep babies entertained. Toys help children develop their creativity, imagination, motor skills, problem-solving skills, sensory and communication skills.
Vibrant colors and a musical note from ball musical toys enhance the sense of sight and sound. Toddlers at an early age will also be able to identify vibrant colors. In addition, bouncing, throwing, and rolling balls improve the actions of the muscles. So, moms, you should enlist various ball toys for babies to make your toddlers cheerful.